Bright red cabbage is used in my favorite coleslaw recipe, which also has a sweet-spicy dressing. Perfect as a taco topping, easy side dish, or nutritious lunch option for meal preparation
Red cabbage is an underrated member of the vegetable world. One of my favorite foods is red cabbage, which is gorgeous and crunchy, and I almost always have some on hand. I frequently use red cabbage to make this spicy red cabbage slaw in addition to adding it to salads, tacos, and sandwiches.
This recipe for red/purple cabbage coleslaw is vegan and healthy because it doesn't use mayo. You'll also appreciate that this recipe doesn't require cooking; all you need is a cutting board and a sharp knife to prepare it.
You should try my Daikon Radish Slaw for something different and exciting, but if you're looking for a traditional coleslaw recipe, I have one for you. Daikons are massive radishes, and they're very delicious!.
Here is 3 recipe(s):
Red Cabbage Slaw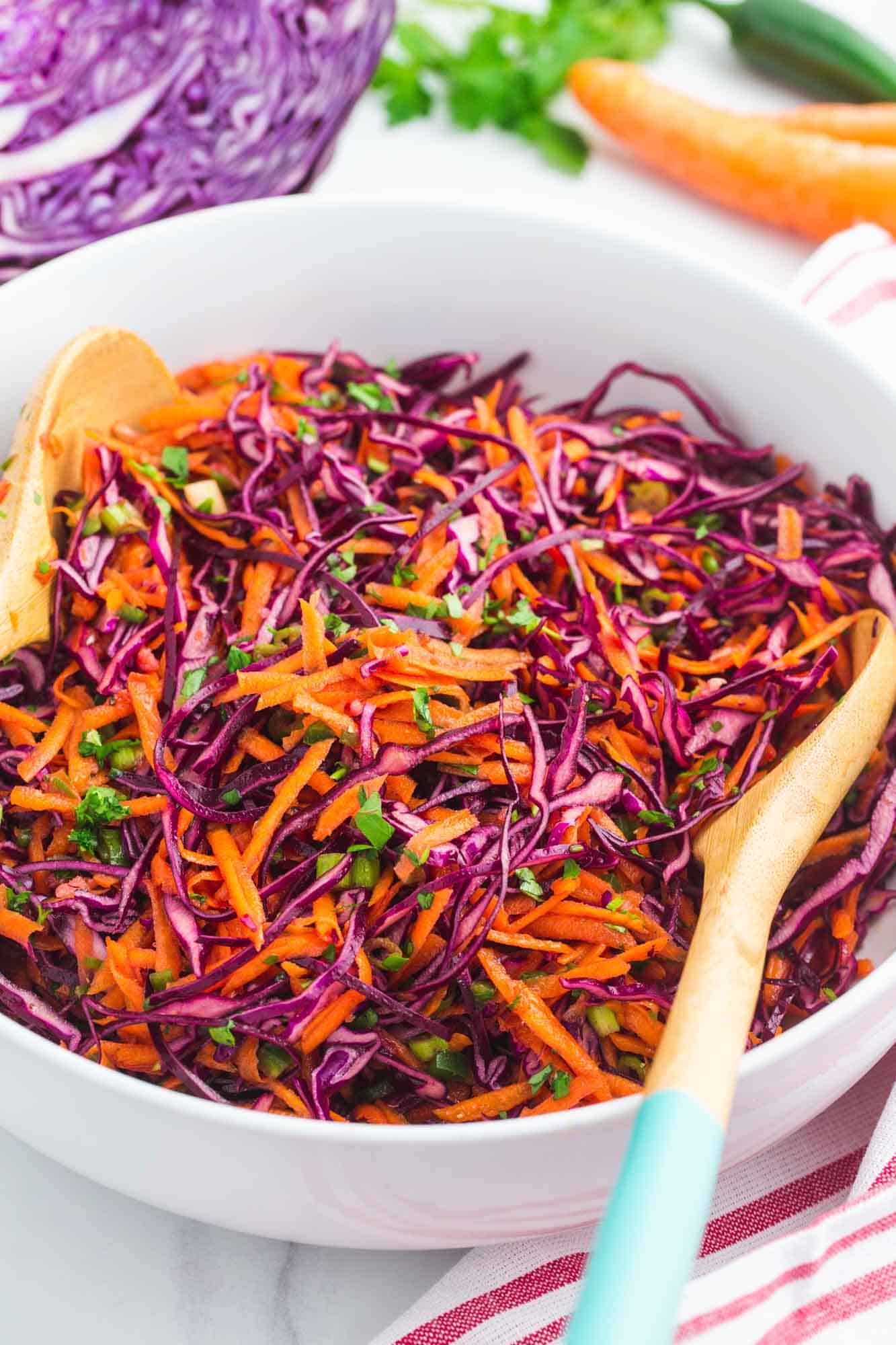 In this simple red cabbage slaw recipe, red cabbage, carrots, and jalapenos are tossed with a bright, sweet-and-spicy dressing. Perfect for BBQs or healthy meal prep.
Prep: 10min
Total: 10min
Yield: 4
Serving Size: 1 serving
Serving Size: 1 serving, calories 184 kcal, 21 g carbohydrate, 3 g protein, 11 g fat, 2 g saturated fat, 118 mg sodium, 6 g fiber, and 11 g sugar.
Ingredients:
1 head red cabbage (shredded)
2 medium carrots (peeled and shredded, about 3 cups)
1 green chili or jalapeno (deseeded and diced)
2 green onions (chopped)
2 tablespoons chopped fresh parsley
3 tablespoons extra virgin olive oil
3 tablespoons apple cider vinegar (red wine vinegar or lemon juice may be substituted)
1 teaspoon maple syrup (or honey)
⅛ teaspoon cayenne powder
2 cloves garlic (minced)
Salt and pepper (to taste)
Instruction:
Start by shredding the cabbage and carrots. For this task, I use a mandoline and a box grater to complete it quickly. Slice the spring onions and dice the jalapeno or chili with a chef's knife.
In a small jar, combine the minced garlic and all of the sauce's other ingredients. Shake vigorously to thoroughly blend. The dressing can also be prepared in a bowl and whisked together. I believe using a jar is more enjoyable (and less messy).
Add the vegetables to a large bowl and combine the dressing with them. Taste the slaw and adjust seasonings if needed. Before serving, let the slaw sit in the refrigerator for at least 30 minutes.
Red Cabbage Slaw
The tangy and crunchy Red Cabbage Slaw is the ideal side dish for pulled pork sandwiches, fried fish, chicken, and street tacos.
Prep: 10min
Total: 70min
Serving Size: 1 serving
Nutritional information per serving: calories 43 kcal, 10 g of carbohydrates, 1 g of protein, 1 g of fat, 1 g of saturated fat, 422 mg of sodium, 2 g of fiber, 6 g of sugar, and 2 g of unsaturated fat.
Ingredients:
1/2 head red cabbage (thinly sliced)
1/2 cup cilantro (chopped)
2 medium carrots (peeled and shredded)
1/3 cup rice vinegar
1/2 tablespoon sugar
1/2 tablespoon honey
1 teaspoon salt
1 teaspoon pepper
Instruction:
Add all of the ingredients to a large mixing bowl. Toss everything together until well combined.
In the refrigerator or at room temperature, cover and let sit for at least an hour.
Stir once more before serving.
Red Cabbage Slaw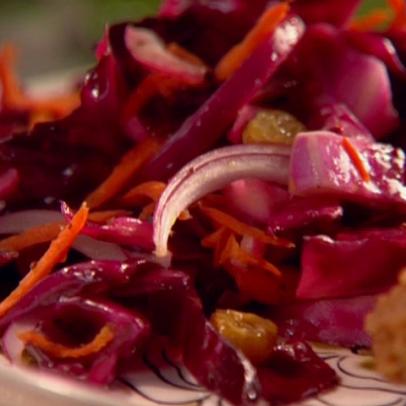 Prep: 0 15min0
Total: 0 1h15min0
Yield: 6 to 8 servings
Serving Size: 1 of 6 servings
Serving Size 1 of 6 servings, 210 calories, 9g fat, 1g saturated fat, 32g carbohydrate, 3g fiber, 22g sugar, 2g protein, 0mg cholesterol, and 363mg sodium.
Ingredients:
1/2 cup apple cider vinegar
2 tablespoons sugar
1/4 cup extra-virgin olive oil
2 teaspoons celery seed
Salt and freshly ground black pepper
1/2 head red cabbage, cut into roughly 1 1/2-inch chunks
2 small carrots, grated
1 small red onion, chopped
1 cup golden raisins
Instruction:
Whisk the vinegar and sugar until they are completely dissolved in a large bowl. Whisk in the oil, celery seed, and salt and pepper as desired. Add the raisins, red onion, red carrots, and cabbage and toss to combine. Cover and let sit at least 1 hour.
The BEST Red Cabbage Coleslaw Recipe
FAQ
Whats the difference between slaw and coleslaw?
Technically, slaws can be any type of chopped or shredded crunchy vegetables, whereas coleslaws must contain cabbage, whether green, red, or napa. The two terms are typically used synonymously, though
What's the difference between white slaw and red slaw?
According to color, he describes three types of slaw that go well with barbecue: white slaw made with mayonnaise, yellow slaw with a little mustard mixed in, and Lexington red slaw made with ketchup and no mayonnaise.
What is Amish coleslaw made of?
Compared to a traditional mayo-based slaw, Amish Vinegar Slaw or Old Fashioned Coleslaw is lighter and tangier. Comprised of shredded cabbage, chopped onion, apple cider vinegar, and dry mustard You can bring this quick side dish to barbecues, potlucks, and family gatherings.
Why is KFC coleslaw so good?
According to the Top Secret Recipes website, tarragon vinegar and Miracle Whip rather than mayo are the secret ingredients that give KFC cole slaw its distinct tang.