A holiday dinner table naturally highlights an open-face apple pie. Our version of this classic dessert features caramelized pie filling on top of a crisp, firm crust. Additionally, it has a faint lemon flavor that will undoubtedly bring summertime warmth all year long.
You can serve our sugar-free apple pie recipe as another delectable variation of this dessert for a guilt-free treat ideal for people watching their sugar intake. Our apple pumpkin pie recipe, which has the velvety and silky texture that we all love in pumpkin pie, is another fantastic substitute.
Here is 3 recipe(s):
Open Face Apple Pie Recipe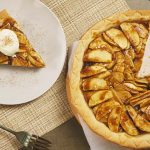 This sweet and sour open face apple pie with a juicy filling that has been caramelized over a firm crust will blow your guests away. The ideal autumnal dessert is this silky-smooth granny smith apple pie, which you can prepare in under an hour.
Yield: 8
Nutritional Information: Serving Size 1, 307 calories, 50 grams of carbohydrate, 11 grams of fat, 4 grams of fiber, 3 grams of protein, 4 grams of saturated fat, 179 milligrams of sodium, and 25 grams of sugar.
Ingredients:
5 Granny Smith apples
½ cup brown sugar
1 tsp cinnamon
2 tsp lemon juice
⅓ cup all-purpose flour
12 oz pie crust
2 tbsp unsalted butter
Vanilla ice cream
Ground cinnamon
Instruction:
Preheat the oven to 450 degrees F.
Combine the sliced apples, lemon juice, brown sugar, and cinnamon. Mix until evenly incorporated.
Add the flour and butter cubes. Mix to combine evenly.
Roll out your pie crust 2 inches wider than your pie plate on a floured surface.
With the aid of a rolling pin, raise your pie crust and place it in an 8-inch pie plate.
Trim the extra dough after evenly distributing it in the pie pan up the sides. Then crimp the edges.
Pour the apple mixture onto the crust
Bake for 10 minutes in the oven. Then turn down the temperature to 350 degrees F.
Bake for 35 to 40 minutes.
When finished, transfer to cooling racks and let cool completely.
Slice the apple pie into your preferred portions. Enjoy them after adding a scoop of ice cream and some ground cinnamon to each slice.
Open-Faced Deep-Dish Apple Pie
This recipe for open-faced deep dish apple pie is stunning, delectable, and essentially as simple as pie gets. I has a simple crust and classic autumn spices.
Prep: 2
Yield: Makes 1 (9- to 10-inch) pie
Ingredients:
1 cup all-purpose or white whole-wheat flour
1/2 cup unsalted butter, very cold and cut into cubes
1/2 teaspoon kosher salt
1/4 cup ice water
6 large apples (I like Granny Smith, Honeycrisp, and Fuji)
1 cup light brown sugar, divided
Divided, 1/2 cup and 2 tablespoons of all-purpose flour, plus additional for the surface
1 1/2 teaspoons ground cinnamon, divided
3/4 teaspoon ground nutmeg, divided
1/4 teaspoon plus 1 pinch kosher salt, divided
1 cup chopped toasted walnuts
1/2 cup rolled oats
4 tablespoons unsalted butter, melted
1/4 to 1/2 cups turbinado sugar, optional
Instruction:
Form the dough into a disk on a work surface, cover with plastic wrap, and chill for 30 minutes.
Bake for 10 minutes after placing the cookie sheet in the oven with the pie on top. Bake for an additional 60 to 75 minutes at 350 degrees Fahrenheit or until the topping is nicely browned. Let cool on a wire rack before serving.
Open-Face Apple Pie with Salted Pecan Crumble
This decadent pie substitutes a divine crumble topping for the top layer of crust, creating a velvety smooth apple pie experience with a sprinkle of wonderful texture to finish off each bite.
Prep: 15min
Total: 2h15min
Yield: Makes 8 servings
Ingredients:
½ cup sugar
2 tablespoons cornstarch
1 teaspoon ground nutmeg
1 teaspoon lemon zest
5 Granny Smith apples, peeled, cored, and sliced
Garnish: prepared caramel sauce
Instruction:
Preheat oven to 350°. In a large bowl, combine the first four ingredients. Add the apple slices and toss to combine.
Roll pie dough onto a lightly dusted surface and cut into desired shapes. Transfer gently to a 9-inch pie plate, then trim and crimp the excess dough from the edges. Arrange apple mixture over pastry. Top with Salted Pecan Crumble.
Bake for one and a half hours, or until the apples are soft and the topping is golden. Remove from oven; cool completely before slicing. Garnish, if desired.
How To Make OPEN-FACED APPLE PIE – CRACKER BARREL'S COPYCAT | Recipes.net
FAQ
Should I cook apples before putting in pie?
Just keep in mind that precooking the apples is the key to a fantastic apple pie filling. This will ensure perfect consistency and balanced sweetness. Additionally, you won't allow the crust and filling to separate.
Is it better to Prebake pie crust for apple pie?
But prebaking your pie's crust is the only surefire way to ensure that it will be golden brown, crisp, and delectable — just as appetizing as its filling — Yes, you heard correctly: bake the bottom crust first, then add the filling.
What is the difference between a galette and a pie?
In essence, galettes are pies made without a pie plate, but since that would be overly simplistic, galettes can be made with any kind of pastry dough. To prepare, spread your dough out and place your fruit filling in the center, leaving about two inches between the filling and the pasty's edge.
What are open pies called?
Open-face pies are referred to as tarts in England and France. 2. Double-crust pies have a bottom crust and a top crust. 3.