Apple pie bars are just as delicious as apple pie, but much easier to make. They are made with a shortbread crust, spiced apple filling, streusel topping, and homemade salted caramel. You'll love this fun twist on a classic dessert!.
Without a doubt, apple pie is my favorite dessert. I adore the flavor combination of the buttery, flaky pie crust with the sweet and sour spiced apples. It's cozy, comforting, and simply irresistible. I know the recipe by heart and prepare it all year long, not just for Thanksgiving. My salted caramel apple pie recipe, which I first shared on my website, is the basis for today's recipe. Although I enjoy making pies, there are times when we don't have enough time to prepare a meal, which is when apple pie BARS come in. No traditional pie crust, but same delicious flavors.
Here is 3 recipe(s):
Salted Caramel Apple Pie Bars
Baking apple pie as bars is so much easier!
Prep: 25min
Total: 3h20min
Yield: 12
Ingredients:
1/2 cup (115g) unsalted butter, melted
1/4 cup (50g) granulated sugar
1 teaspoon pure vanilla extract
1/4 teaspoon salt
1 cup (125g) all-purpose flour (spoon & leveled)
2 large apples, peeled and thinly sliced (1/4 inch thick)*
2 Tablespoons all-purpose flour
2 Tablespoons granulated sugar
1 teaspoon ground cinnamon
1/8 teaspoon ground nutmeg
1/2 cup (40g) old-fashioned oats
1/3 cup (70g) packed light or dark brown sugar
1/4 teaspoon ground cinnamon
1/4 cup (31g) all-purpose flour (spoon & leveled)
1/4 cup (60g) unsalted butter, cold and cubed
homemade salted caramel or store-bought caramel sauce
Instruction:
Preheat the oven to 300°F (149°C). Put parchment paper on the bottom and sides of an 8-inch square baking pan, leaving enough overhang on all sides. Set aside.
In a medium bowl, combine the melted butter, granulated sugar, vanilla, and salt. Add the flour and stir until everything is combined. Press the mixture evenly into the prepared baking pan. Bake for 15 minutes and then remove from the oven. (You can prepare the filling and streusel while the crust bakes. ).
In a sizable bowl, combine the sliced apples with the flour, granulated sugar, cinnamon, and nutmeg until the apples are all uniformly coated. Set aside.
In a medium bowl, combine the cinnamon, brown sugar, and flour. Using a pastry blender, two forks, or even your hands, blend in the chilled butter until the mixture resembles coarse crumbs. Set aside.
Turn the oven up to 350°F (177°C). Evenly layer the apples on top of the warm crust. Apple slices should be tightly layered and pressed down to fit so that it doesn't appear that there are too many. Streusel should be evenly distributed over the apple layer and baked for 30-35 minutes, or until golden brown.
Remove from the oven and let cool for at least 20 minutes at room temperature before chilling for at least two hours (or overnight) in the refrigerator. Using the overhang on the sides of the pan, lift the foil or parchment out and cut it into bars. They can be divided into 12 larger bars, but I usually cut them into 16 smaller bars. After cutting, top each piece with some salted caramel sauce. You can eat these apple pie bars warm, at room temperature, or even cold.
Salted Caramel Apple Pie Bars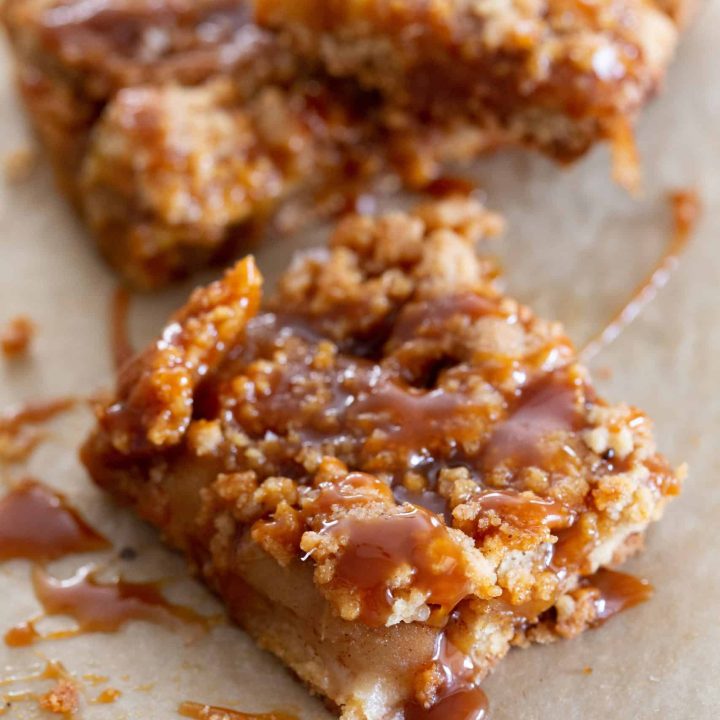 Fall dessert perfection: a buttery crust, a sweet apple filling, and a salted caramel drizzle!
Prep: 20min
Total: 1h5min
Ingredients:
1/2 cup white sugar
1/2 cup plus 1 tablespoon brown sugar- divided
1 teaspoon baking powder
3 cups all-purpose flour
1 cup cold unsalted butter (2 sticks or 8 ounces)
1 egg
¼ teaspoon salt
2 or 3 medium-sized or large apples, peeled and thinly sliced
2 teaspoons of cinnamon
juice of half a lemon
1 teaspoon vanilla bean paste or vanilla extract
1 cup caramel sauce
flakey sea salt for sprinkling
Instruction:
Combine the sliced apples, lemon juice, one tablespoon of brown sugar, cinnamon, and vanilla in a medium bowl. Set aside.
Combine the flour, 1/2 cup of each white and brown sugar, and the baking powder in a large bowl.
Adding a dd egg and stirring with a fork before adding the chilled, finely diced butter.
Once the dough is crumbly and the butter pieces are no larger than pea-sized, combine the butter with your hands, a pastry blender, two knives, or a food processor. (dough WILL be crumbly and not totally uniform. ).
Prepare a 9×13 or quarter sheet pan by greasing it with butter or cooking spray and lining it with 2 overlapped sheets of parchment paper.
Press down with your hands, an offset spatula, or a spoon after pouring half of the crust mixture into the pan.
Spread the prepared apples evenly over the prepared baking dish.
Top with the remaining crust- crumbling it over the apples.
Bake the bars at 375°F for 40–45 minutes, or until the tops are golden.
Serve warm or at room temperature after drizzling with caramel sauce.
Salted Caramel Apple Bars
One of the best desserts you will make this fall is salted caramel apple bars, which are gooey treats with a delicious buttery shortbread crust and a soft and sweet caramel apple center.
Prep: 10min
Total: 55min
Yield: 16
Serving Size: 1 serving
calories 542 kcal, 71 g of carbohydrates, 5 g of protein, 27 g of fat, 16 g of saturated fat, 70 mg of cholesterol, 562 mg of sodium, 1 g of fiber, and 43 g of sugar are included in the nutrition facts for one serving.
Ingredients:
2 cups butter (softened)
1 cup white sugar
1 and ½ cups powdered sugar
1 Tablespoon vanilla
4 cups flour
2 medium apples (chopped (I used Granny Smith))
Unwrapped or 11 oz. Caramel Bits work great in place of the unwrapped caramels in this one 14-ounce bag.
⅓ cup whipping cream
½ teaspoon vanilla
2 teaspoons coarse sea salt
Instruction:
Preheat oven to 325 degrees Fahrenheit. Line a 9×13 pan with parchment paper or aluminum foil. Lightly spray with cooking spray.
Butter, sugar, and powdered sugar are whipped together in a sizable mixing bowl. Add vanilla and beat until combined. Mix in the flour and stir until a soft dough forms.
Place the other half of the dough in the refrigerator after pressing half of it into the bottom of a 9-by-13-inch dish. Bake in preheated oven for 15 minutes.
After taking the pan out of the oven, microwave it for one minute to completely melt the caramels, heavy cream, and 1/2 teaspoon vanilla. Stir together until smooth. Stir in the chopped apples. Pour evenly over the hot crust. Lightly sprinkle the coarse sea salt over the crust. I didn't end up using the entire Tablespoon. I just lightly sprinkle it evenly on top. You don't want them too salty.
Crumble the remaining dough over the caramel after removing it from the refrigerator. When the filling is bubbling and the top is firm, put the pan back in the oven and bake for an additional 25 to 30 minutes. Let them cool completely before cutting.
How to Make Salted Caramel Apple Pie Bars
FAQ
How to make a caramel apple station?
How to Make a Caramel Apple Bar
The first step is to core and quarter the apples, then dip them in Sprite to prevent browning.
Poke a lollipop stick in the apples. …
Then, add the various toppings, candies, and caramel sauce to a number of bowls.
What is the best apple for dipping in caramel?
Apples: Any variety will do, but since the caramel is so sweet, it's nice to select a tart or mild apple to contrast the flavor. Good choices include Granny smith, Fuji, Gala, and McIntosh.
What pairs well with sea salt caramel?
Salted Caramel is Also Fabulous:
on ice cream.
with apple slices (Or try my caramel apples recipe instead!)
mixed with yogurt.
on popcorn.
with pretzels.
on pancakes/waffles.
with cinnamon rolls.
on brownies.
How many carbs in a caramel apple pie?
Caramel apple pie contains 471 calories per 136 g serving. This serving has 62 grams of carbohydrates, 4 grams of protein, and 23 grams of fat.