This simple apple bread recipe, which is moist, sweet, and simply brimming with apples and the flavors of autumn, makes the ideal fall treat. Create enough to share with loved ones or enjoy the entire loaf by yourself.
Try my banana bread and cinnamon bread too! Homemade bread is the best!
One of my kitchen's most irresistible fall recipes is this bread, without a doubt. It might remain fresh for up to five days, but that won't happen. Warm apples and cinnamon have this incredibly reassuring quality that makes it feel like fall has arrived.
A delicious brown sugar and cinnamon swirl elevates this apple bread to a whole new level. Great for breakfast, after-school snacks, dessert, or serve it at a family gathering, it is so simple to make and will be a hit with everyone who tries a bite. After all, sharing a meal together is a wonderful way to bring people together. No holiday excuse needed!.
Here is 1 recipe(s):
Apple Bread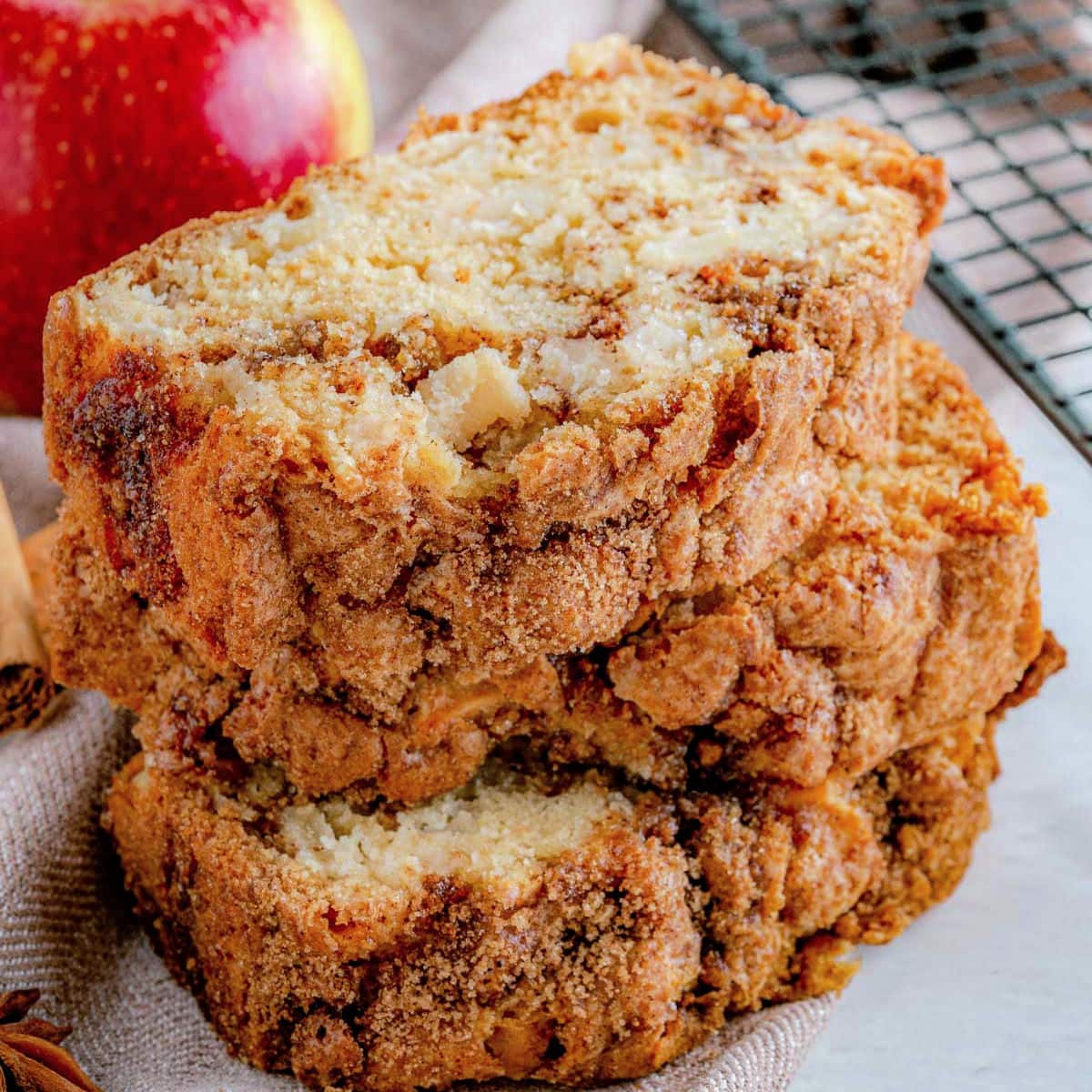 This simple apple bread recipe is moist, sweet, and simply brimming with apples and the flavors of autumn, making it the ideal fall breakfast, snack, or dessert. This easy apple bread recipe is a must-make this season, so make enough to share with friends and family or keep the entire cozy loaf for yourself!
Prep: 10min
Serving Size: 1 serving
calories 322 kcal, carbs 49g, protein 4g, fat 13g, saturated fat 8g, trans fat 1g, cholesterol 71mg, sodium 263mg, fiber 2g, sugar 29g, unsaturated fat 4g, serving size 1 serving.
Ingredients:
½ cup brown sugar
1 ½ teaspoons ground cinnamon
2 large eggs (room temperature)
½ cup granulated sugar
½ cup butter (melted)
1 teaspoon vanilla extract
1 ½ cups all purpose flour
1 teaspoon baking powder
½ teaspoon baking soda
¼ teaspoon salt
2 cups chopped apples (about 2 Pink Lady, Gala, Honeycrisp, or other baking-friendly apples), peeled and chopped
Instruction:
Preheat oven to 350°F. Using parchment paper as a liner, grease and flour an 8 x 5 inch loaf pan. Set aside.
Brown sugar and cinnamon should be whipped together in a small bowl and left aside.
In a sizable mixing bowl, stir together the eggs and sugar.
Whisk in melted butter and vanilla extract until thoroughly combined.
Just combine the all-purpose flour, baking powder, baking soda, and salt. The batter will be very thick. Fold in chopped apples.
Add half of the batter to the prepared loaf pan. On top of the batter, scatter about three-quarters of the brown sugar mixture.
On top of the brown sugar mixture, carefully spread the remaining batter. Sprinkle the remaining brown sugar mixture on top, then gently swirl it into the top layer with a knife or spoon.
Bake for 35 to 45 minutes, or until the top is lightly golden and a toothpick inserted into the center comes out clean or just a few moist crumbs remain. (Tent bread with foil for the final 10 to 15 minutes if it is browning too quickly. ).
Let bread cool completely before slicing and serving.
Stress Relief Baking: Cinnamon Swirl Apple Fritter Bread
FAQ
Why is my apple bread so dense?
Why is My Apple Bread So Dense? Overmixing before baking makes apple bread more likely to be dense. For best results, only stir to barely incorporate the flour into the other ingredients. There is some weight to this bread, but it's a good, nourishing weight.
Can you freeze Swirl Bread?
Yes, you can either slice the loaf and individually wrap each piece, or wrap the entire loaf in plastic wrap and place it in a freezer bag or other freezer-safe container.
How much sugar is in Cinnamon Swirl Bread?
Cinnamon%20swirl%20bread%20by%20United%20States%20BakeryNutrition%20FactsSodium%20135mg6%20%Total%20Carbohydrate%2020g7%20%Dietary%20Fiber%201g4%20%Sugar%207g
How many calories are in homemade apple bread?
253 calories, 13g of fat (1g saturated), 124mg of sodium, 31mg of cholesterol, 31g of sugars, 1g of fiber, and 3g of protein are found in 1 slice.