Here is 1 recipe(s):
Cinnamon Apple Crumb Cake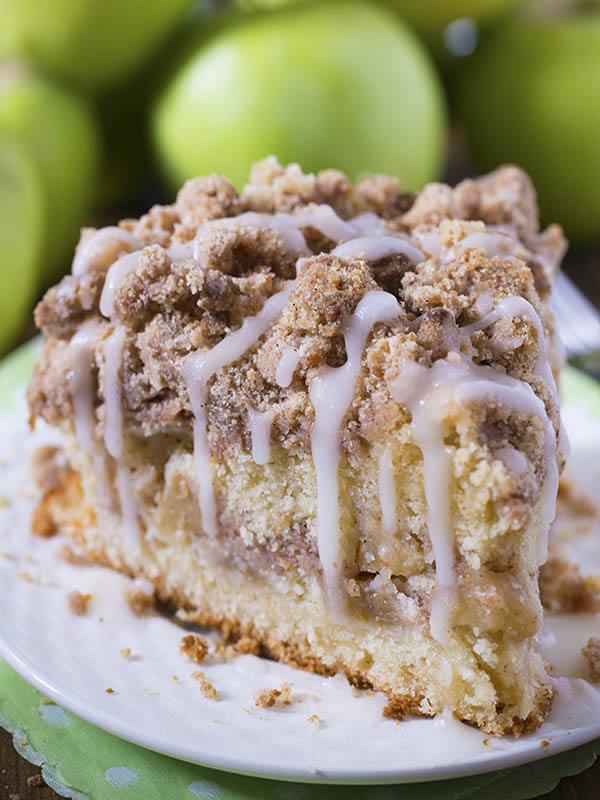 Cinnamon Apple Crumb Cake is the ideal dessert for the impending brisk weather if you're ready to start baking for fall.
Prep: 20min
Total: 1h
Yield: 12
Serving Size: 1
Nutrition Facts: servingSize 1
Ingredients:
1 and 1/2 cups flour
1/2 cup brown sugar
1/4 cup granulated sugar
1/2 teaspoon salt
1 teaspoon cinnamon
1/4 teaspoon nutmeg
1/2 cup butter -melted
1/2 teaspoon vanilla
1 large (or 2 small) tart apples-peeled and chopped
4 Tablespoons butter
1/2 cup granulated sugar
1 large egg
1 teaspoon vanilla
1/2 cup sour cream
1 cup flour
1/4 teaspoon baking soda
1/4 teaspoon salt
1/2 teaspoon baking powder
1/2 cup powdered sugar
1 and 1/2 – 2 Tablespoons apple cider
Instruction:
Preheat the oven to 350 F. Set aside, grease an 8-inch springform pan, and place parchment paper on the bottom.
To make the cinnamon streusel crumb, combine the dry ingredients in a bowl first. When the mixture is evenly moist, add the melted butter and vanilla and stir again.
In a large bowl, combine 4 tablespoons of butter and 1/2 cup of sugar to make the cake. Add the egg and beat well. Finally, add vanilla and sour cream and beat again.
Add 1 cup of the flour, baking soda, salt, and baking powder to the butter mixture and stir until just combined in another bowl.
Spread half of the batter (which will form a very thin layer) in the bottom of the pan. After evenly distributing the apple chunks over the batter, top with about 1 cup of the cinnamon streusel crumbs. Over the crumbs, pour the remaining batter and sprinkle the remaining cinnamon streusel on top.
A tester inserted in the center should come out clean after 35 to 40 minutes of baking.
Run a thin knife around the cake before removing the ring of the springform pan.
Mix powdered sugar and apple cider in a bowl to create the glaze, then drizzle it over the cake.
Cinnamon Apple Crumb Cake
FAQ
Is cinnamon crumb cake the same as coffee cake?
Although some individuals mistake crumb cake for coffee cake, there is actually a significant distinction between the two. Coffee cakes typically have a layer of crumbly streusel on top, whereas crumb cakes are basically half crumb and half cake. Although both are excellent bakes, today is all about the crumb!
What nationality is crumb cake?
The traditional crumb cake is a flat cake with a sweet crumb topping known as streusel, which means "something scattered," and is thought to have originated in central Europe, most likely in Germany.
How do you make a Mary Berry apple cake?
Ingredients
225g self-raising flour.
1 level tsp baking powder.
225g caster sugar.
2 large eggs.
½ tsp almond extract.
150g butter, melted.
250g cooking apples, peeled and cored.
25g flaked almonds.
Do I have to peel apples for apple crisp?
Apples should always be peeled and cored. Don't skip this step: Leaving the apple skins on will ruin the consistency and texture of your crisp.