The transition from peach to apple season is almost complete, and I can't think of a better recipe to do it than this Snickers Caramel Apple Salad. It's a classic, simple dish that's a hit with kids and makes a delicious fall snack.
A great recipe to prepare ahead of time for potlucks and block parties, Snickers Caramel Apple Salad can easily feed a large number of people.
Some people are confused by calling it a salad, just like they are by the Watergate Salad. It's really a dessert. And it brings back memories of the time I took my niece and nephew to Cracker Barrel years ago. I allowed my nephew, who was only 2 or 3 years old at the time, to choose some candy. "Mommy doesn't allow us to have candy," he said. But he was gazing around at the array of sweets with enormous eyes. He heard his sister say look at these Peanuts. They were those marshmallow peanuts that aren't peanuts at all. But when my nephew's eyes suddenly doubled in size and a sly grin spread across his face, I could tell the wheels had started turning in his mind. He thought that if he ate this candy, he could tell his mother that he had eaten peanuts. LOL!.
Don't you just love the minds of little kids? I'm sure he would happily eat this dessert and tell his mother he had salad.
There are only a few basic ingredients required: snickers bars (the best part! ), cool whip, chopped apples, instant vanilla pudding mix, and I like to add a few marshmallows as well, but they are not required. The whole thing gets drizzled with caramel sauce.
Lately I'm really loving Smucker's Salted Caramel Topping. It is ideal for this Snickers Caramel Apple Salad because it has the ideal ratio of sweet and salty flavors.
You can use whatever apples you like. Many people enjoy the combination of Granny Smith's tartness and the other ingredients' sweetness. Typically, I combine Granny Smith with Red Delicious or Gala apples.
Here is 3 recipe(s):
Snickers Caramel Apple Salad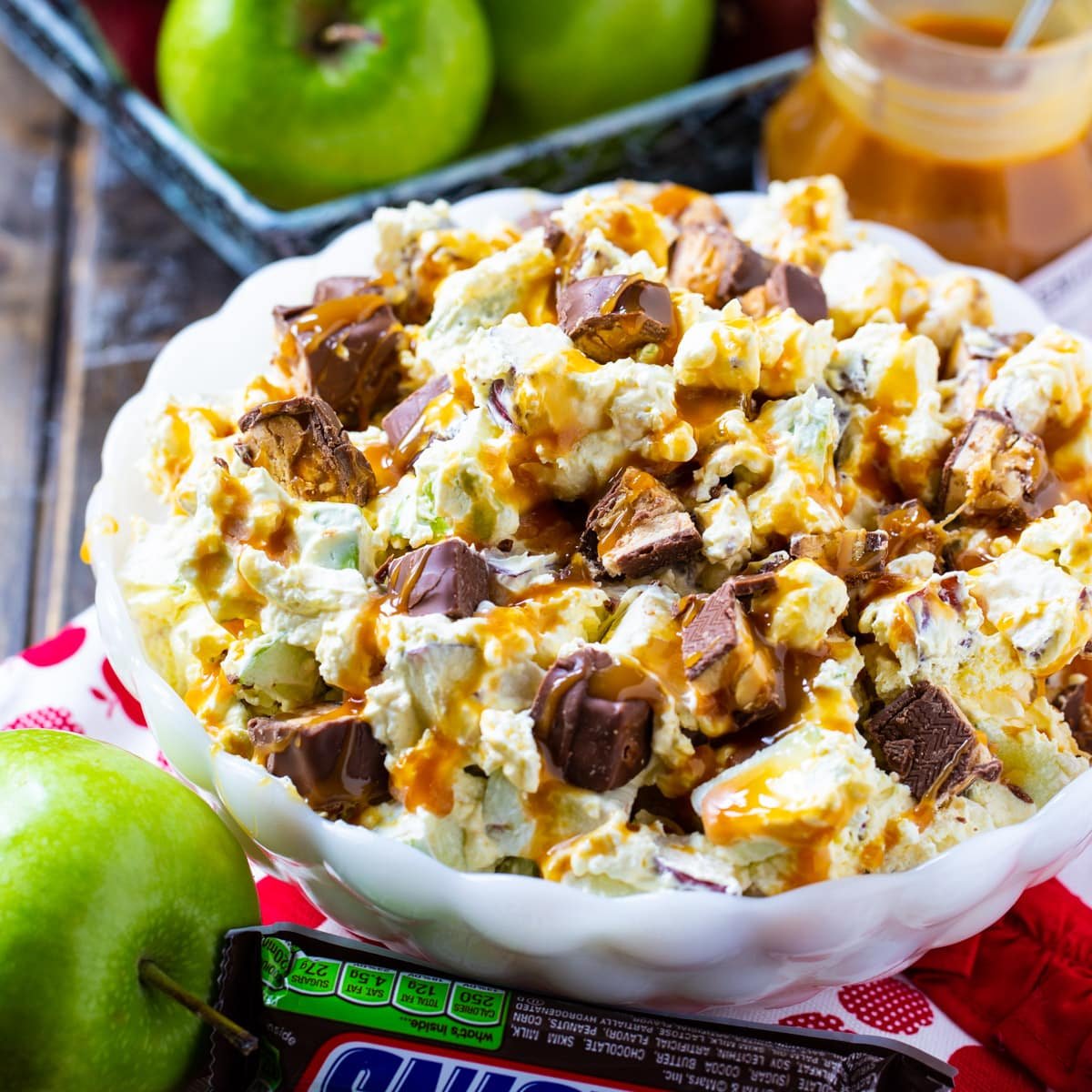 Fall's ideal potluck dish is Snickers Caramel Apple Salad. Caramel sauce drizzled over plenty of deliciously crunchy fall apples
Prep: 10min
Total: 10min
Yield: 12
Serving Size: 1 serving
Nutrition Facts: calories 313 kcal, servingSize 1 serving
Ingredients:
I like to use a combination of Red Delicious and Granny Smith apples, so I cored and chopped 6 small apples.
6 (1.86-ounce) Snickers Bars, (cut into bite-sized pieces)
1 (5.1-ounce) box instant vanilla pudding mix,
1/2 cup milk
1 (12-ounce) container Cool Whip
1 cup marshmallows, (optional)
1/2 cup caramel sauce
Instruction:
Whisk together pudding mix and milk in a large bowl. Fold in Cool Whip.
Fold in apples, chopped Snickers, and marshmallows.
Drizzle caramel sauce on top.
Refrigerate until ready to serve (at least 1 hour.)
Snickers Caramel Apple Salad
In reality, the Snickers Caramel Apple Salad is a creamy, sweet dessert with pieces of tart, crisp apples and gooey candy bar pieces.
Prep: 10min
Total: 135min
Yield: 12
Serving Size: 1 serving
Nutrition Facts: servingSize 1 serving, calories 282 kcal, Carbohydrate 50. 8 g, Protein 3. 3 g, Fat 8. 1 g, Saturated Fat 4 g, Cholesterol 4. 2 mg, Sodium 227. 4 mg, Fiber 2. 7 g, Sugar 36. 9 g, unSaturated Fat 0. 1 g.
Ingredients:
1 cup milk ((any kind))
1 (3.4 ounce) package instant vanilla pudding mix
6 medium tart apples ((see notes above))
1 (12 ounce) container frozen whipped topping, (thawed)
½ cup caramel sauce
6 full size Snickers bars ((1. 86 ounces each), cut into bite-sized pieces).
1 cup mini marshmallows
Instruction:
Whisk milk and pudding mix together in a sizable mixing bowl. Allow to sit and thicken for an additional two to three minutes after whisking for about a minute.
While you wait, core and chop apples.
Smoothly incorporate whipped topping and caramel sauce into pudding mixture.
After incorporating, fold in the apples, candy bars, and marshmallows to the pudding mixture.
Until you're ready to serve, cover and chill for at least two hours.
Snickers Caramel Apple Salad
No matter the season, this Snickers Caramel Apple Salad is a hit at any gathering. If you ever need a tasty side dish (that doubles as dessert) in a pinch, this is the ideal recipe because the apples are especially crisp and juicy in the Fall.
Prep: 10min
Total: 40min
Serving Size: 1
Nutritional information per serving: 544 calories, 66 grams of carbohydrates, 10 milligrams of cholesterol, 26 grams of fat, 4 grams of fiber, 6 grams of protein, 17 grams of saturated fat, 265 milligrams of sodium, 49 grams of sugar, 0 grams of trans fat, and 7 grams of unsaturated fat.
Ingredients:
6 Snickers candy bars in their original size (or 2 cups of the minis)
4 large crunchy apples (I prefer Pink Crisps or Granny Smiths);
1- 3.5 ounce package vanilla instant pudding mix
1/2 cup skim milk
16 ounces Cool Whip
1/2 cup caramel sundae sauce for topping
Instruction:
Chop the apples and the snickers candies into bite-sized pieces. Set aside.
Whisk together the pudding mix and milk. Fold in the Cool Whip until completely incorporated.
Mix the apples and snickers into the pudding mixture.
Place in serving dish, then top with caramel sauce.
Chill for at least 30 minutes before serving.
How to make: SNICKERS CARAMEL APPLE SALAD
FAQ
How do you get caramel to stick to apples?
You should soak your apples for a few minutes in hot tap water with a little bit of vinegar added to help the caramel adhere to them. Then scrub off any wax with a kitchen towel. Once ready, tilt pan to pool caramel. Each apple should be evenly coated using a twirling motion; let any extra caramel drip off.
What is apple salad made of?
In a large bowl, toss apples with lemon juice. Add celery and marshmallows. Stir in mayonnaise. Refrigerate, covered, until serving.
What apples are best for caramel?
The best apples for caramel apples include Granny Smith, Fuji, and Honeycrisp, but you can use any apple variety you like. Because Granny Smith apples are tart, which goes well with sweet, buttery caramel, they are a popular choice for caramel apples.
How do you make a pineapple and apple salad?
Mix the pineapple, apples, celery, raisins, and sunflower kernels in a bowl. Combine the mayonnaise, yogurt, sugar, and saved pineapple juice in a different bowl. Pour over fruit mixture and toss to coat. Refrigerate until serving.