Make these caramel apple cinnamon rolls in an hour, and you'll be in caramel apple heaven.
Oh friends. I have literally been waiting for months to make these. Months and months and months.
But finally, fall and caramel apple season have officially arrived. And so have these Caramel Apple Cinnamon Rolls.
On this recipe, I'll let the images speak for themselves the most. But here are 4 quick things you need to know:
1) They are an adaptation of my recipe for 1-Hour Cinnamon Rolls. So, in addition to being incredibly decadent and delicious, they can also be prepared and served in just one hour. And believe me, they're just as easy to make and delicious as overnight cinnamon rolls!
2) You can use store-bought caramel sauce or homemade. I prefer making my own microwave caramel sauce because I believe it is superior to anything purchased in a jar. But literally any caramel sauce will work for this. If purchasing from a store, I suggest using the jarred caramel sauce (rather than the dipping sauce) that is located near the ice cream toppings, but either will do.
3) You can use any kind of apples. To add even more tartness, I chose Granny Smith apples, but you can use soft apples, crispy apples, or anything else. Despite the fact that you can peel apples, I chose to simply finely chop mine with the skin on. Additionally, if you prefer a different variation to the small chunks, you can thinly peel them with a vegetable peeler and spread them out on the surface coated in butter, cinnamon, and sugar. Whatever works!.
4) Folks, these are rich. Yes, this recipe definitely belongs in the "treat" category, especially if you use more caramel sauce than necessary. I tend to eat fairly healthily, but I firmly believe that everything should be consumed in moderation, especially decadent desserts. So these fall into the special occasion category for me. And I promise that I enjoy each and every bite:)
Here is 3 recipe(s):
Caramel Apple Cinnamon Rolls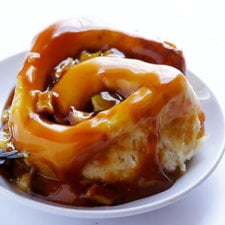 The ideal combination of sweet, delicious caramel and tart apples is inside these caramel apple cinnamon rolls.
Prep: 40min
Total: 1h
Yield: 12
Ingredients:
1 cup milk (I used 2%)
1/4 cup butter
3 1/2 cups all-purpose flour, divided
1/4 cup granulated sugar
1/2 tsp. salt
1 envelope instant or 'rapid rise' yeast (approx. 2 1/4 tsp).
1 egg
1/3 cup granulated sugar
1/3 cup packed brown sugar
2 Tbsp. ground cinnamon
6 Tbsp. butter, (completely) softened
1 Granny Smith Apple, cored and finely chopped
1/2 cup caramel sauce, homemade or store-bought
1/2 cup caramel sauce, homemade or store-bought
(optional) 1/2 cup chopped toasted walnuts, pecans or peanuts
Instruction:
When the rolls have risen, uncover the dish. Place on the center oven rack and bake for 15 to 20 minutes, or until the rolls are golden and thoroughly cooked. Remove and allow to cool for at least five minutes on a wire rack. Drizzle with remaining caramel sauce and serve.
Caramel Apple Cinnamon Rolls
Rolls filled with granny smith apples, cinnamon, brown sugar, caramel, and pecans and topped with homemade apple cider caramel sauce. These apple cinnamon rolls are the ideal fall treat, and they have the most amazing, bakery-style, buttery flavor!
Prep: 45min
Total: 1h5min
Ingredients:
4 tablespoons melted salted butter (or ghee)
¾ cup milk (such as dairy, almond,etc)
¼ cup water
3¼ – 3¾ cup all-purpose flour
¼ cup granulated sugar
¼ teaspoon kosher salt
2 ¼ teaspoon instant yeast
2 tablespoons powdered milk
1 egg, room temperature
⅔ cup light brown sugar, packed
5 teaspoons cinnamon
¼ teaspoon nutmeg
5 tablespoons salted butter, softened
1 large Granny Smith apple, cored and chopped
¼ cup toasted chopped pecans, optional
¾ cup caramel sauce (homemade or store-bought)
Instruction:
WARM: Heat the milk and water for 30 to 45 seconds in a microwave-safe bowl. Check the temperature, it should be about 105-108ºF. If it's warmer, you'll need to wait for it to cool to that range at room temperature. Add the melted cooled butter to the milk mixture.
DOUGH: Combine 3 cups flour, sugar, salt, powdered milk, and yeast in the bowl of an electric mixer with a dough hook (or a hand mixer with a dough hook). After a brief period of mixing, add the milk mixture and egg. For about 5 minutes, beat on medium-low speed to incorporate the flour. When adding flour to sticky dough, add 1/4 cup at a time until the dough pulls away and forms a ball. Run the mixture for another 5 minutes on medium speed. Dough should be taken off the hook, sprayed with oil, and covered with plastic wrap. Let rest for 10-15 minutes.
Brown sugar, cinnamon, and ground nutmeg should be whipped together in a small bowl; set aside.
Turn the dough out onto a floured work surface to form rolls. It should be rolled out into a 14×10 inch rectangle using a floured rolling pin. Using a butter knife, cover the surface with the softened butter. Sprinkle evenly with the cinnamon sugar mixture. Top with apple and pecan pieces. Drizzle ½ of the caramel sauce on top. Using a sharp knife or dental floss, tightly roll the dough, tuck and pinch the ends, and cut into 12 equal pieces. In a 13×9 baking pan that has been lightly greased or lined with parchment, put the rolls.
REST: Loosely cover the rolls with a towel and let them rise for 20–35 minutes in a warm, dark environment. TIP: Preheat a 200°F oven, then turn it off before adding rolls.
BAKE: Remove the dish from the oven. Set a rack in the middle of the oven and heat it to 350 degrees Fahrenheit. Bake the rolls for 16-22 minutes or until golden. Remove and allow to cool for 10 minutes on a wire rack. Drizzle with remaining caramel sauce and serve warm.
Caramel Apple Cinnamon Rolls
Warm caramel-apple topping, which is the ideal way to use extra apples from the orchard and to get the entire family seated at the breakfast table, can add some seasonal flair to your favorite cinnamon rolls.
Prep: 15min
Total: 50min
Yield: 8
Serving Size: 1 Serving
Calories: 220; Carbohydrates: 34; Cholesterol: 0; Fat: 1 1/2; Fiber: 1; Protein: 2; Saturated Fat: 4; Serving Size: 1; Sodium: 390; Sugar: 18; Trans Fat: 0; Serving Size: 1
Ingredients:
1/3 cup caramel topping
1 tablespoon butter, melted
1/2 teaspoon ground cinnamon
3/4 cup chopped peeled Braeburn apples
PillsburyTM Flaky Cinnamon Rolls with Butter Cream Icing, 1 can (13 oz), 8 Count
Instruction:
Heat oven to 350°F. Spray 9-inch round cake pan with cooking spray.
Stir apples into the mixture after thoroughly blending the caramel topping, melted butter, and cinnamon in a small bowl. Spoon mixture evenly into pan.
Separate dough into 8 rolls; place over apple mixture.
Bake 24 to 26 minutes or until deep golden brown. Cool for three minutes in the pan, then invert onto a serving platter. Cool 5 minutes.
Spoon icing into small microwavable bowl. 10 seconds on High, uncovered, or until thin enough to drizzle Drizzle over warm rolls, as desired. Serve warm.
Caramel Apple Cinnamon Rolls
FAQ
How do you keep caramel from sliding off apples?
You should soak your apples for a few minutes in hot tap water with a little bit of vinegar added to help the caramel adhere to them. Then scrub off any wax with a kitchen towel. Once ready, tilt pan to pool caramel. Each apple should be evenly coated using a twirling motion; let any extra caramel drip off.
Why do you pour heavy cream over cinnamon rolls?
Why does the cream in your cinnamon rolls make such a difference? As the rolls bake, the cream in the bottom of the pan heats up. Its liquid migrates up into the rolls, making them moister.
Should you let caramel cool before dipping apples?
Before dipping the apples, let the caramel sit out for 3-5 minutes to cool. It will slide off the apples more readily if it's too hot. Dip an apple in the caramel while holding it by the stick and gently swirl it around to coat all surfaces. Allow any extra caramel to drip off as you lift it up and continue to swirl it.
Is it better to use brown sugar or white sugar for cinnamon rolls?
Sugar: For the filling, you can choose to use either all white or all brown sugar. All brown will yield a more caramel-like taste. All white will make the filling sweeter. Milk: You can use any milk fat percentage you have at home, but I recommend using whole milk for a richer dough.