You'll love the combination of red wine, brandy, our favorite fall spices, and sweet honeycrisp apples- it's THE drink to make this season if you're looking for a signature fall cocktail. Making this large batch of the cocktail in advance will allow the flavors to fully develop.
If it's not their explosive crunch that draws you in, honeycrisp apples' irresistibly sweet-tart flavor and all that juice are what make them the star of today's sangria recipe. We're making a delicious cocktail with all of our favorite autumnal flavors. Warning: this stuff disappears quickly!.
Here is 4 recipe(s):
Honeycrisp Apple Sangria
This sangria is THE drink to make this fall. I highly recommend doubling the recipe because everyone will want more than one glass of this delicious concoction made with red wine, brandy, cinnamon, apple cider, citrus, and, of course, sweet honeycrisp apples.
Prep: 5min
Total: 6h
Yield: 6
Ingredients:
3 cinnamon sticks (plus more for garnish)
2 honeycrisp apples, chopped
1 orange, thinly sliced
1 (750 ml) bottle of red wine (I advise a Spanish variety with a light body)
1 and 3/4 cups homemade apple cider or store-bought*
1/2 cup brandy
1/4 cup orange juice (or juice from 2 medium oranges)
juice from 1 lemon
club soda, to taste
Instruction:
In a large pitcher, add the cinnamon sticks, apples, and orange slices. Add wine, apple cider, brandy, orange juice, and lemon juice. Allow to rest in the fridge for six to twenty-four hours. After tasting, add 1-2 tablespoons of granulated sugar, honey, or agave nectar if you want it to be sweeter.
Simply wet the rim of your glasses with water, turn them upside down, and dip them into a mixture of cinnamon and sugar if you want a cinnamon-sugar rim (highly recommended). Pour the fruit-infused sangria into the glass and top with a splash of club soda (this fizzy water doesn't overpower the sangria!). Garnish with a cinnamon stick, if desired. Cheers!.
Honeycrisp Apple Cider Sangria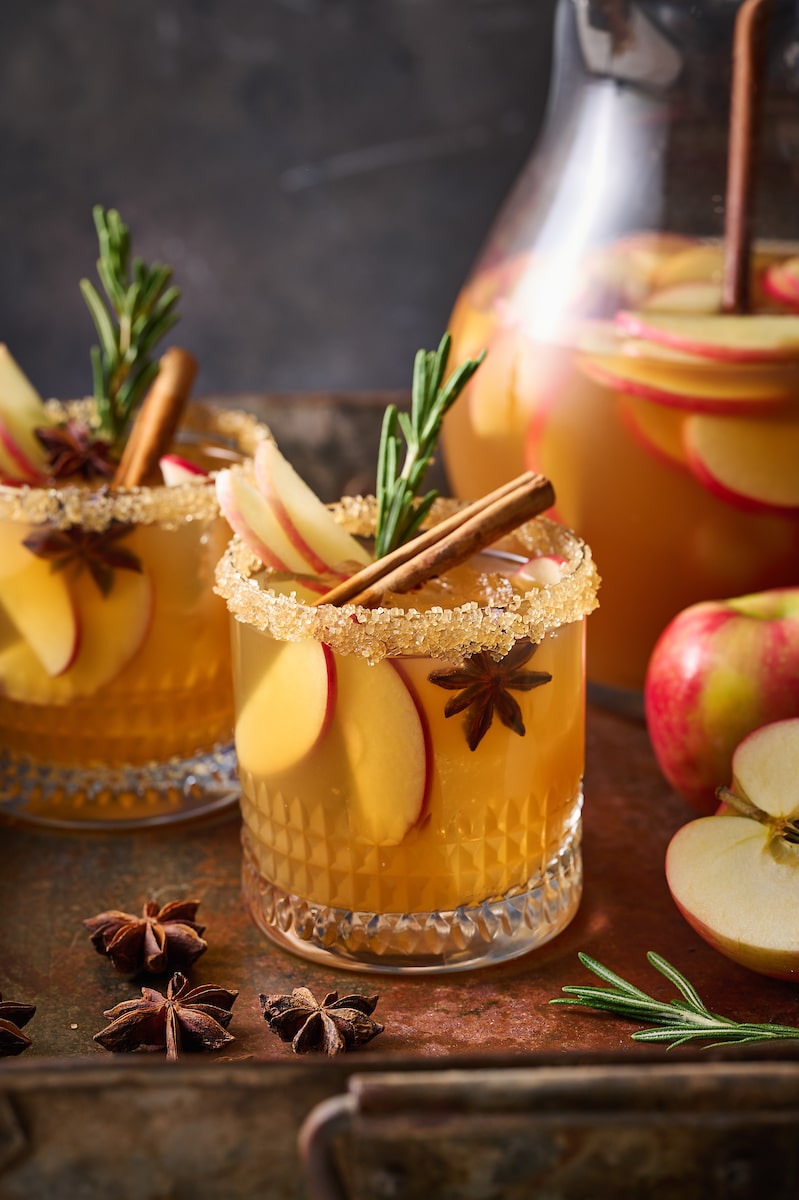 This amazing Honeycrisp apple cider sangria, which you can garnish with a cinnamon sugar rim and cinnamon sticks to make a perfectly festive fall sangria, is perfect if you love cinnamon apple-flavored fall cocktails.
Prep: 15min
Yield: 1
Ingredients:
1 and 1/2 cups (340ml) water
1/2 cup (170ml) honey
6 green cardamom pods
3 cinnamon sticks
2 star anise pods
1 and 1/2 teaspoons whole cloves
1 piece of fresh ginger, cut into 1/4-inch-thick slices, measuring 3 inches long
2 teaspoons vanilla extract
2 and 1/2 cups (568ml) cold-pressed apple cider
1 standard bottle of white wine, such as Sauvignon Blanc or Pinto Grigio
1 cup (227 ml) apple brandy (I usually add 1 and 1/2 cups for a stronger beverage)
5 large Honeycrisp apples (cored and thinly sliced )
1 cup (227ml) ginger beer or seltzer (optional )
1 cup (199g) granulated sugar
2 teaspoons ground cinnamon
1 lemon wedge
Instruction:
Discard spices. In the below recipe for sangria, use ALL of the simple syrup.
Top with ginger beer or seltzer if using, then serve.
Fill glasses with ice and pour sangria over ice. Serve!
Honeycrisp Apple Sangria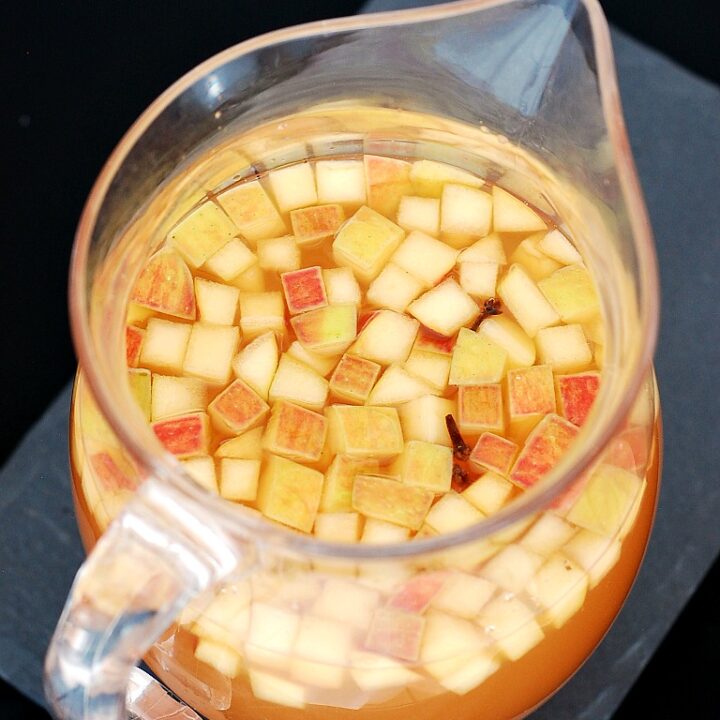 Ingredients:
750 mL bottle crisp, fruity white wine
1 cup apple cider
1/2 cup brandy
2 inch honeycrisp apples, cut into 1/2- cubes
1 cinnamon stick
4 cloves whole
Instruction:
In a large pitcher, combine the wine, cider, and brandy. Stir to combine. Add the apple cubes, cinnamon stick and cloves.
Refrigerate for at least 24 hours.
Discard the cloves and cinnamon stick before serving.
Honeycrisp Apple Sangria
Freshly picked apples, honey, cinnamon, and white wine are all combined to make a delicious fall Honeycrisp apple sangria. A beautiful cinnamon sugar rim tops it off.
Prep: 15min
Total: 12h15min
Serving Size: 1
Nutritional information per serving: 163 calories, 34 grams of carbohydrates, 0 milligrams of cholesterol, 0 grams of fat, 4 grams of fiber, 1 gram of protein, 0 grams of saturated fat, 7 milligrams of sodium, 24 grams of sugar, 0 grams of trans fat, and 0 grams of unsaturated fat.
Ingredients:
2 honeycrisp apples
1 (750-milliliter) bottle un-oaked Chardonnay
1/2 cup peach schnapps
1/4 cup orange blossom honey
2 oranges, 1 quartered
1 lemon, quartered
1 lime, quartered
2 cinnamon sticks
2 quarter-size slices of fresh ginger
3 whole cloves
2 tablespoons sugar
1/2 teaspoon ground cinnamon
Ice
Club soda
Instruction:
Peel, core, and chop one of the apples.
In a pitcher, combine the Chardonnay, schnapps, and honey.
Overnight in the fridge, combine the quartered orange, lemon, lime, cinnamon sticks, apple, ginger, and cloves. (Give it at least 4 hours if you don't want to wait that long.)
Strain the sangria into another pitcher.
Peel, core and finely chop the remaining apple.
Peel, section, and chop the remaining orange.
Mix the apple and orange in a bowl.
On a small plate, blend the sugar and cinnamon.
Wet the rims of the wine glasses and then coat them with the cinnamon sugar.
Fill the glasses with ice.
Pour in the sangria until three-quarters full.
Top with a splash of club soda.
Garnish with a spoonful of the chopped apple and orange.
Honeycrisp Apple Sangria | Sally's Baking Recipes
FAQ
What kind of apples are best for Sangria?
Recipes for Sangria frequently include apples because they provide a variety of flavor profiles and the ideal amount of crunch. Granny Smith apples provide the ideal tart flavor to contrast the sweetness of the wine in a delicious Sangria.
Will apples turn brown in Sangria?
Yes, if apples are left in Sangria for too long, they will turn brown. There are some things you can do to stop this from happening, though. Slice your apples thinly to prevent them from browning as one preventative measure.
What are honey crisp apples best used for?
Honeycrisp apples are best used for eating and salads, but they can also be used to make applesauce and bake goods. They are a particularly well-keeping apple and can be kept in the fridge for up to three to four months. The health benefits from eating apples are numerous.
Do you peel apples for Sangria?
HOW TO MAKE APPLE SANGRIA. Core and slice apples into thin slices. (Don't peel the apples. ) Fill a large pitcher with sliced apples and a cinnamon stick.