We finally turned on our heater today. Having had a beautiful, mild fall, the current chilly weather is here.
In order to stay warm today, I made a soup using all of the apples we still had on hand. I decided to try this simple recipe from Eating Well because I was in the mood for something comforting and simple. It called for parsnips, but I didn't feel like going to the store in the cold because I was feeling lazy (and warm from the heat!). Consequently, I decided to add some delicious potatoes that I had on hand.
I was disappointed to discover that I had run out of fresh rosemary (I can't wait for those miniature rosemary Christmas trees to appear in the stores! ), but I was happy to substitute what I believe to be the second greatest kitchen invention since sliced bread. I recently discovered powdered rosemary at Penzey's and I adore using it. No little twigs in my bites of soup. :).
Anyway, sure enough, the soup/stew was completely delicious. A simple chicken soup with some hearty potatoes added, complemented by the sweet cooked apples, which also transformed the soup's flavor. Undoubtedly a delicious sweet and savory meal — comfort food to the max!
You will adore this recipe for Autumn Chicken Stew, a delectable and simple chicken soup enhanced with apples and rosemary.
Simply use four parsnips in place of the potatoes if you'd rather use them.
Here is 3 recipe(s):
Autumn Chicken Stew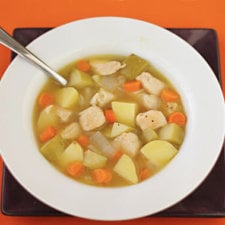 You will adore this recipe for Autumn Chicken Stew, a delectable and simple chicken soup enhanced with apples and rosemary.
Prep: 5min
Total: 35min
Yield: 4
Ingredients:
2 Tbsp. olive oil, divided
1 lb. chicken breasts or tenders, diced into bite-sized pieces
1 large onion
2 lbs. of potatoes, diced to the size of the chicken (I used Yukon gold potatoes).
1 cup chopped carrots
3 fresh rosemary sprigs, or 1/2 teaspoon dried rosemary powdered).
1/2 tsp. salt
1/4 tsp freshly ground black pepper
4 cups reduced-sodium chicken broth
2 Granny Smith apples, peeled, cored, and chopped
2 tsp. cider vinegar
Instruction:
Heat 1 Tbsp. Over medium heat, add oil to a Dutch oven (or other large cooking pot). Add the chicken and cook for 3 to 5 minutes, stirring occasionally, until just cooked through. Transfer to a plate.
Add the remaining 1 Tbsp. oil to the pot. Add the onion, potatoes, carrots, rosemary, salt, and pepper, and cook, stirring frequently, for 3 to 5 minutes, or until the vegetables start to soften. Add apples and broth, then heat to a simmer. Reduce heat to a simmer and cook the vegetables for 8 to 10 minutes, stirring frequently. Return the chicken to the pot and stir in vinegar. Check seasoning and add extra salt or pepper if desired.
Autumn Chicken Stew
Warm up with a hearty stew that features a delicious pumpkin flavor.
Prep: 50min
Total: 1h10min
Yield: 6
Serving Size: 1 Serving
380 calories, 45 grams of carbohydrates, 60 milligrams of cholesterol, 0 grams of fat, 3 grams of fiber, 27 grams of protein, and 3 grams of saturated fat. Serving size is 1 serving.
Ingredients:
4 boneless, skinless, 1 1/4 lb. chicken breasts, divided into 1-inch pieces.
1/4 cup Original Bisquick™ mix
1 tablespoon vegetable oil
2 1/2 cups 1-inch cubes pumpkin or Hubbard squash
1 teaspoon pumpkin pie spice
2 medium potatoes, cut into 1-inch cubes
1 medium onion, chopped (1/2 cup)
1 can (14.5 oz) Italian-style stewed tomatoes, undrained
1 3/4 cups Progresso™ chicken broth (from 32-oz carton)
Chopped fresh parsley or pumpkin pie spice, if desired
1 1/2 cups Original Bisquick™ mix
1/2 cup milk
Instruction:
Coat chicken with 1/4 cup Bisquick mix. In 4-quart Dutch oven, heat oil over medium heat. Cook the chicken for 10 to 12 minutes, occasionally stirring, until the center is no longer pink.
Add the broth, potatoes, onions, tomatoes, pumpkin, pumpkin pie spice, and potatoes. Heat to boiling; reduce heat. Cover; simmer 5 minutes, stirring occasionally. In the meantime, combine the ingredients for the dumplings and stir until a soft dough forms.
Drop dough by 6 spoonfuls onto stew mixture. Cook uncovered 10 minutes. Cook covered for an additional 10 minutes, or until vegetables are tender. Sprinkle with parsley or additional pumpkin pie spice.
Autumn Chicken Stew
with kale and butternut squash
In stark contrast to the oppressive August heat, the leaves are turning, the wind is picking up, and there is a light chill in the air. It's autumn and it's time for stew. To be completely honest, we've been waiting all summer for this weather to return. We love this dish because it contains tender chicken and warm butternut squash in a creamy, rich broth. Each spoonful warms the stomach deliciously. You'll have the ideal soup to keep yourself warm as the cold approaches.
Total: 45min
Yield: 2 servings
Nutritional Information: Calories: 630; Carbohydrate: 38; SuitabilityForDiet: "; Fat: 32; Protein: 50; Sodium: 1790.
Ingredients:
13 oz. Boneless Skinless Chicken Breasts
12 oz. Butternut Squash, Cubed
Info 4 oz. Light Cream
3 oz. Kale
1 Shallot
Info 1 oz. Grated Parmesan
4 tsp. Mirepoix Broth Concentrate
Info 0.48 oz. Parmesan Cheese Crisps
2 Garlic Cloves
Instruction:
properties
@type
Autumn Chicken Stew Recipe!
FAQ
What to have with chicken stew?
14 Fun Side Dishes for Chicken Casserole
Lemon Pepper Roasted Broccoli.
Lemon Almond Asparagus.
Lemon-Sesame Green Beans.
Salad.
Fruit Salad.
Applesauce.
Chutney-Glazed Carrots.
Rice.
What is a chicken stew event?
The dish, which is prepared in a large black pot over a fire and shared by family, friends, and neighbors on a cool fall evening, is a tradition in Yadkin County, North Carolina, where I was raised. Simply put, the stew is made with chicken, water, milk, butter, and seasoning.