I love sweet breads. And I love savory breads. But I especially love sweet and savory breads!.
I therefore naturally wanted to try this new recipe. Last week, I found it online and discovered I already had everything I needed to try it. So, despite having some reservations about how the ingredients would taste when combined, I pulled out my food processor and mixer and gave it a try.
Within an hour, my home was filled with a wonderful aroma, and I had a gorgeous loaf of bread that was moist and delicious (loved the flecks of apple and sage!). I understand that some people may not be huge fans of sweet and savory, but I really enjoyed the flavor. The apples, cheddar, and sage, which were all sweetened with some brown sugar, could all be tasted, but I thought they made a wonderful combination. It turned out to be quick and simple as well thanks to the food processor's incredibly quick assistance with the apple grating!
So give this bread a try if you're looking for a new one to enjoy this season.
If you enjoy freshly baked bread, you will adore this recipe for Apple Cheddar Bread, which skillfully combines the best of sweet and savory apple goodness.
I'm going to use smoked cheddar cheese when I try this again. I'm thinking that extra smokey kick would be delicious!!.
Here is 2 recipe(s):
Apple Cheddar Bread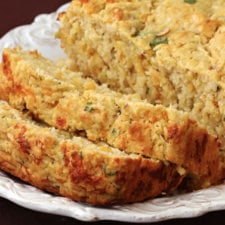 If you enjoy freshly baked bread, you will adore this recipe for Apple Cheddar Bread, which skillfully combines the best of sweet and savory apple goodness.
Prep: 5min
Total: 50min
Yield: 1
Ingredients:
2 cups all-purpose flour
2 tsp. baking powder
½ tsp. kosher salt
8 Tbsp. butter, room temperature
¼ cup light brown sugar
2 large eggs, room temperature & fork beaten
2 cups apples (any favorite), unpeeled & finely shredded
1 cup cheddar cheese, shredded
2-3 Tbsp. minced sage, to taste
Instruction:
Preheat oven to 350 degrees F. Coat a 9" loaf pan with cooking spray. (If you wish, you may insert parchment paper over the long sides. ).
Mix the salt, baking powder, and flour in a different bowl. Set aside.
Beat the butter and sugar with an electric mixer until they are light and fluffy. Then beat in the eggs until combined. By hand, mix in the flour mixture. Fold in the apples, cheese and sage. Spread batter into prepared pan.
Bake for about 45 minutes, or until risen and a wooden skewer inserted in the center comes out clean. Cool to room temperature before slicing.
Apple Cheddar Loaf
With fresh apples, sharp cheddar, and a touch of cinnamon, this apple cheddar loaf is a taste of fall and goes perfectly with a hot cup of tea.
Prep: 20min
Total: 75min
Serving Size: 1 g
Nutritional information per serving: 1 g, calories 92 kcal, 16 g of carbohydrates, 3 g of protein, 1 g of fat, 1 g of saturated fat, 18 mg of cholesterol, 252 mg of sodium, 1 g of fiber, 1 g of unsaturated fat.
Ingredients:
1/4 cup butter (room temperature, divided)
2 cups all-purpose flour
1/2 cup sugar
1-1/2 teaspoons baking powder
1 teaspoon ground cinnamon
1/2 teaspoon baking soda
1/2 teaspoon salt
1 cup grated cheddar cheese (divided)
1 1/2 cups small-medium-sized apples, grated with the skins on (or 2 small to medium-sized or 1 medium to large-sized apple)
1 cup milk
1 egg
Instruction:
Preheat the oven to 350ºF (180ºC). One tablespoon of the butter should be used to grease a typical loaf pan. Line the tin with a parchment paper sling. Set aside.
Mix the flour, sugar, baking powder, cinnamon, baking soda, and salt until thoroughly combined in a large bowl.
Add the remaining butter to the bowl of flour. Rub the butter into the flour mixture using clean hands until the flour is abrasive and crumbly.
1/4 cup of the grated cheddar should be set aside, and the remainder should be added to the flour bowl. Mix with a fork to combine.
Grate the apple(s) with the skins still on; 1-1/2 cups (160 g) of grated apple are required. Add the grated apple and mix to combine. Because the flour will be sticky from the apple juice, you might need to use your hands to distribute the grated apple evenly.
Create a well in the center of the flour mixture. Pour in the milk. Crack the egg into the milk. Use a fork to whisk the milk and egg together, and then stir everything together until it's just combined. At the very end, you might want to switch to a rubber spatula.
Pour the batter into the prepared loaf tin. Smooth the top after evenly distributing the batter into the tin's four corners. Put the last few pieces of cheese on top of the loaf.
Place the loaf in the oven and bake for 55 to 60 minutes, or until a thermometer inserted into the center of the loaf registers 200°F to 205°F (93°C to 96°C).
The loaf should cool for 15 minutes on a wire rack in the pan, then be lifted out by the handles of the parchment paper, the paper removed, and allowed to cool for another 30 minutes before slicing.
cheddar apple bread
FAQ
Which cheese is best for bread?
Cheddar: The tangy flavor of cheddar pairs well with the white bread's sweeter undertones. Cheddar is also great for grilled sandwiches and paninis. Mozzarella: Wholemeal bread pairs well with mozzarella due to its nutty, grainy flavor. To make a tasty, healthy sandwich, top it with tomatoes, basil, and olive oil.
Why is my apple bread so dense?
Why is My Apple Bread So Dense? Overmixing before baking makes apple bread more likely to be dense. For best results, only stir to barely incorporate the flour into the other ingredients. There is some weight to this bread, but it's a good, nourishing weight.
What goes well with cheddar bread?
Pretty much any topping you'd put on a grilled cheese sandwich tastes great with bread cheese. Try it with honey, jam, or fresh fruit for a sweeter meal. We love it warmed up with strawberry-rhubarb jam. Try it with fresh tomato slices, caramelized onions, or bacon if you're in the mood for something more savory.
What is apple bread made of?
In a mixing bowl, combine the eggs, sugar, vegetable oil, and vanilla extract. Stir in the apples. Separately, combine the cinnamon, baking powder, salt, and flour; add to the apple mixture; and stir just until combined. Pour batter into the prepared loaf pan. Bake in the preheated oven for 45 minutes.