A graham cracker crust, a creamy brown sugar cheesecake filling, sweet apples spiced with cinnamon, salted caramel made from scratch, and a streusel topping are the first layers of this caramel apple cheesecake pie. You'll be glad they combined apple crisp and cheesecake because the result is amazing!
I always enjoy a good dessert mash-up, especially if cheesecake is involved. Have you seen this coconut cheesecake brownie or this pecan pie cheesecake before?
Today we're talking all things apple. In this recipe, cheesecake is added after I've already begun to prepare an apple crisp or salted caramel apple pie. It's very layered, textured, rich, and undoubtedly tasty. My team and I made about 8 of these pies for testing and photography, and neighbors literally left notes on our doors asking us to bring them more. (Yes, that really happened!).
Here is 5 recipe(s):
Caramel Apple Cheesecake Pie
In this recipe, homemade salted caramel is prepared and used in both the filling and the pie's garnish. The caramel can be prepared in advance and kept in the refrigerator for up to a month. I recommend making the crust first, then the toppings, and finally the filling. This pie with caramel apple cheesecake has so many layers to love!
Prep: 45min
Total: 4h25min
Yield: 9
Ingredients:
1 and 1/2 cups (180g) of graham cracker crumbs (equivalent to 12 full sheets)
1/4 cup (50g) granulated sugar
6 Tablespoons (85g) unsalted butter, melted
1/3 cup (28g) old-fashioned whole rolled oats*
3 Tablespoons (24g) all-purpose flour (spoon & leveled)
3 Tablespoons (40g) packed light or dark brown sugar
1/2 teaspoon ground cinnamon
2 Tablespoons (28g) unsalted butter, cold and cubed
2 cups (250g) peeled, thinly sliced, and chopped apples*
1 Tablespoon (13g) packed light or dark brown sugar
1 teaspoon lemon juice
1/2 teaspoon ground cinnamon
2–3 Tablespoons salted caramel (plus more for topping)*
12 ounces (340g, or 1. full-fat block cream cheese, softened to room temperature (5 standard blocks).
1/2 cup (100g) packed light or dark brown sugar
3 Tablespoons (45g) sour cream
1 teaspoon pure vanilla extract
1 large egg, at room temperature
Instruction:
Preheat oven to 350°F (177°C). Have your ingredients ready and salted caramel prepared.
If you're starting with whole Graham crackers, process them into fine crumbs in a food processor or blender. In a medium bowl, combine the graham cracker crumbs with the sugar and stir in the melted butter. The mixture will be thick, coarse, and sandy. Try to smash/break up any large chunks. Pour the mixture into an ungreased 9-inch pie dish. Use your hand to press the crumbs into the bottom and up the sides to create a crust that is tightly packed. Avoid packing down firmly because doing so will cause the crust to become too hard. Simply pat down until the mixture is no longer crumby/crumbly. Advice: Avoid packing down the crust too firmly and use a small flat-bottomed measuring cup to help smooth out the surface and press down the bottom crust. And to help create a rounded crust, run a spoon around the bottom "corner" where the edge and bottom meet. This keeps the crust from crumbling. Visit the recipe page for graham cracker crust for additional shaping technique advice.
Bake the crust for 10 minutes. Continue with the next steps as the crust bakes.
In a medium bowl, combine the cinnamon, brown sugar, and flour. Using a pastry cutter, two forks, or even your hands, blend in the chilled butter until the mixture resembles coarse crumbs. As you move on to the following step, chill the bowl of streusel in the refrigerator.
the thinly sliced into a Set aside. (When you assemble the pie, the caramel will be layered on top of them.) ).
The cream cheese and brown sugar should be combined on medium-high speed in a large bowl using a hand-held or stand mixer fitted with a paddle attachment until the mixture is smooth and creamy, about 3 minutes. As necessary, use a rubber spatula to scrape the bowl's sides and bottom. Beat until thoroughly combined and extremely smooth after adding the sour cream and vanilla extract. With a rubber spatula, scrape the sides and bottom of the bowl as necessary to combine—you don't want any big lumps. Just until combined, add the egg and beat at medium speed. If lumps are still present, switch to a hand whisk and whisk briefly until the large lumps are broken up. Some small lumps are OK.
Assemble the layers: Spread the cheesecake filling into the crust. The crust can still be warm at this point. A small offset spatula makes spreading easy. Add apples on top of the cheesecake filling in an even layer. Drizzle salted caramel over the apples. Sprinkle cold streusel evenly on top.
Bake the pie for 45 minutes, or until the center is almost set (the center will still be a little wobbly, but that's okay). Reduce the oven temperature to 325°F (163°C). For the final 10-15 minutes of baking, tent the entire pie with aluminum foil or use a pie crust shield to prevent burning the crust edges.
Place the pie on a wire rack and let it cool at room temperature for an hour. After that, put it in the fridge to chill for at least two hours and possibly even two days before serving. As the pie chills and cools, it will continue to set up. (Cover if chilling it for longer than a few hours. ) The topping softens the longer it sits.
To serve, drizzle chilled pie with more salted caramel. When salted caramel cools, it becomes solid, so rewarm it to drizzle it. Use a clean, sharp knife, and wipe it clean after each slice for neat slices. The first slice is never attractive, but it gets much easier after that.
Pie leftovers should be covered and kept in the freezer or refrigerator for up to five days.
Caramel Apple Cheesecake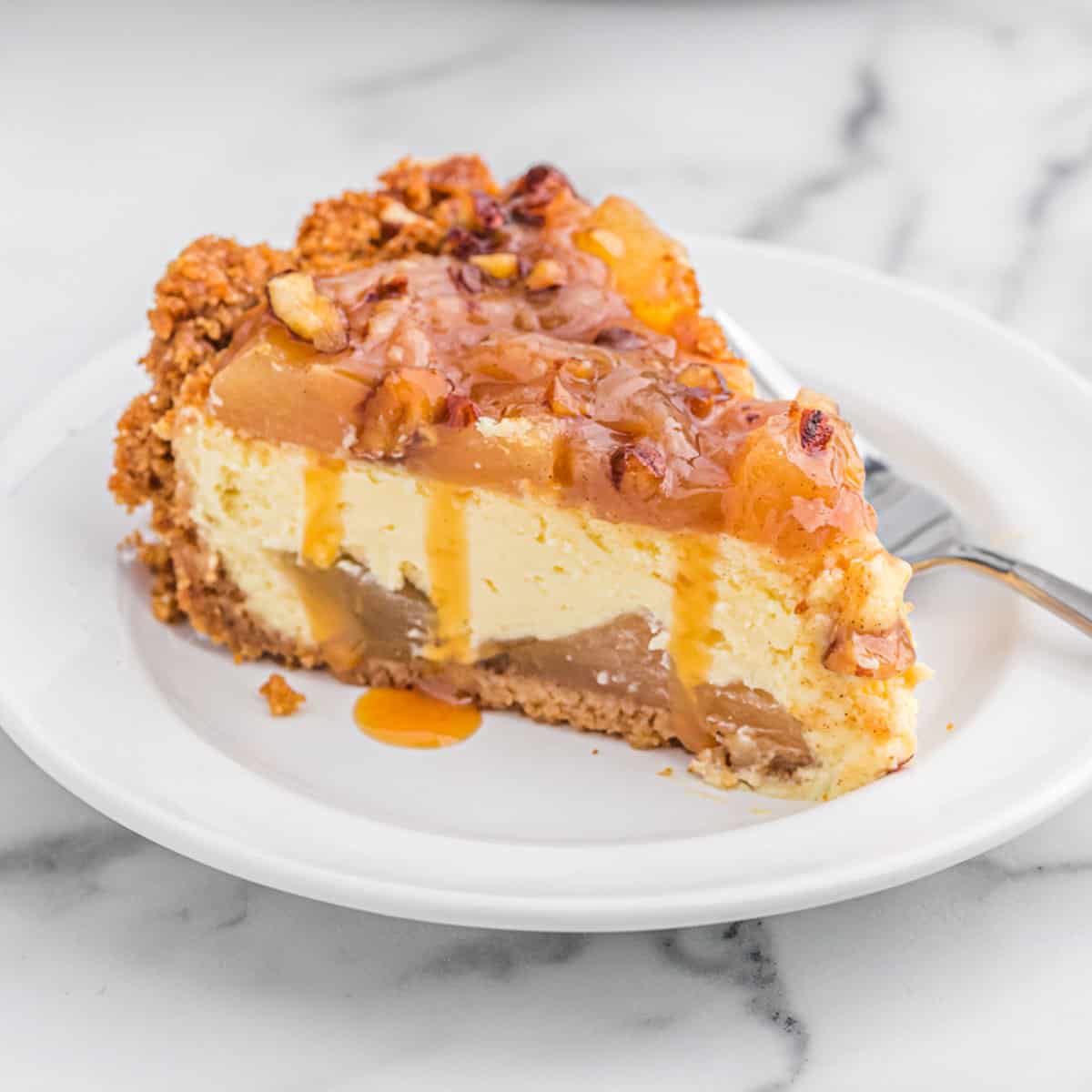 Graham cracker crusted homemade caramel apple cheesecake with sweet, juicy apples and smooth caramel. It's the perfect finish to any fall meal!.
Prep: 10min
Total: 45min
Yield: 8
Serving Size: 1 serving
Nutritional information per serving: calories 490 kcal, 41 g of carbohydrates, 7 g of protein, 34 g of fat, 17 g of saturated fat, 129 mg of cholesterol, 413 mg of sodium, 1 g of fiber, and 26 g of sugar.
Ingredients:
1½ cups graham cracker crumbs
⅓ cup granulated sugar
7 Tablespoons butter (melted)
½ teaspoon cinnamon
2 (8 oz) packages cream cheese (softened)
½ cup granulated sugar
1 tsp vanilla extract
2 eggs
1 (21 oz) can apple pie filling
¼ cup caramel topping
½ teaspoon cinnamon
14 cup coarsely chopped cinnamon almonds (or any other nut of your choice)
Instruction:
Preheat oven to 350 degrees.
Combine all of the crust's ingredients in a medium bowl. Press firmly into the bottom and up the sides of a 9-inch pie plate after mixing until crumbly. Bake in preheated oven for 6-7 minutes until set.
Cream cheese should be fluffy after being beaten at medium speed in a large mixing bowl. Beat the mixture until it is smooth after adding the sugar, vanilla extract, and eggs.
Fill the bottom of the prepared crust with 3/4 of the apple pie filling that you scooped from the can. Top with the cheesecake filling, spreading evenly.
Bake in the preheated oven for 30-35 minutes, or until the cheesecake's top is set and thoroughly cooked. Transfer to a wire rack to cool.
In a small sauce pan over low heat, combine the remaining 1/4 can of apple pie filling, the caramel topping, and 1/2 tsp. of cinnamon while the cheesecake bakes. Stir until smooth, then set aside.
Spread the caramel apple mixture over the cheesecake once it has cooled, then top with chopped nuts. Refrigerate for at least 2-3 hours before slicing. Enjoy!.
Apple Crisp Cheesecake Pie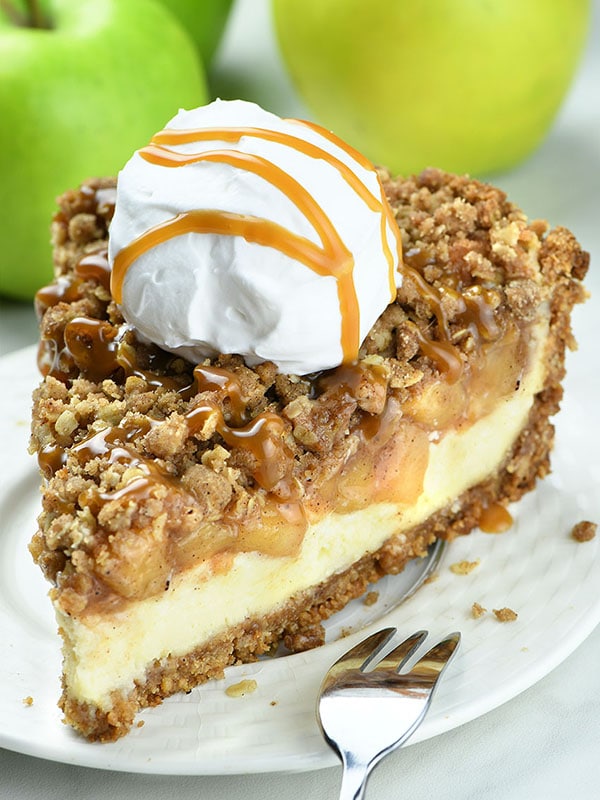 Apple Crisp Cheesecake Pie is a delicious fall dessert. The graham cracker crust, creamy cheesecake, sweet apple crisp, and salted caramel topping combine to make this decadent pie.
Prep: 30min
Total: 2h
Yield: 12
Ingredients:
3 medium apples, diced into 12 cup pieces, plus 2 34 cups of apples
1 Tablespoon melted butter
¼ cup light brown sugar
1 teaspoons cinnamon
¼ teaspoon nutmeg
1 Tablespoon fresh lemon juice
1 ½ Tablespoon corn starch
½ cup of water
2 ¼ cups graham cracker crumbs
¼ cup light brown sugar
1-2 teaspoons cinnamon (to taste)
6 Tablespoons unsalted butter-melted and slightly cooled
½ cup all-purpose flour
½ cup light brown sugar
½ cup quick-cooking oats
1 teaspoon cinnamon
¼ teaspoon nutmeg
¼ cup unsalted butter- melted
12 oz. cream cheese
½ cup of sugar
1 ½ teaspoons vanilla
2 Tablespoons flour
1 large egg
Salted caramel sauce, whipped cream, or vanilla ice cream
Instruction:
Stir everything thoroughly, cover with a lid, and cook everything over medium heat until the sauce thickens and the apples start to soften. Just remember to stir occasionally or the sauce will stick to the bottom. It will take about 10-15 minutes. Set aside and cool before using.
Graham cracker crumbs, cinnamon, and brown sugar are combined in a bowl. Add melted butter and stir until everything is evenly moistened. In a 9-inch pie plate, press the mixture into the bottom and up the sides. Bake 8 minutes, then set aside to cool.
Stir together flour, oats, brown sugar, and cinnamon. To make the crumbs, whisk in the melted butter with a fork and set aside.
Serve with whipped cream, salted caramel, vanilla ice cream, or both.
Salted Caramel Apple Cheesecake Pie
A delicious pie with layers of cheesecake, caramel, pecans, apples, and graham cracker crust, topped with freshly made whipped cream, caramel, and pecans
Prep: 80min
Total: 380min
Yield: 8
Serving Size: 1 serving
Nutritional information per serving: calories 694 kcal, 73 g of carbohydrates, 5 g of protein, 44 g of fat, 21 g of saturated fat, 121 mg of cholesterol, 364 mg of sodium, 4 g of fiber, and 44 g of sugar.
Ingredients:
1½ cup graham cracker crumbs (about 12 full graham crackers)
3 tablespoons granulated sugar
½ teaspoon ground cinnamon
⅓ cup unsalted butter (melted)
¾ cup salted caramel sauce
1 cup chopped pecans
5 tablespoons unsalted butter
½ cup light brown sugar
1 teaspoon ground cinnamon
¼ teaspoon salt
5 Granny Smith apples (peeled, cored and thinly sliced)
8 ounces cream cheese (at room temperature)
¼ cup granulated sugar
1 egg (at room temperature)
1 tablespoon lemon juice
1 teaspoon vanilla extract
¾ cup heavy cream
3 tablespoons powdered sugar
Salted caramel sauce
Chopped pecans
Instruction:
Preheat oven to 375 degrees F.
To make the crust, combine the sugar, cinnamon, and graham cracker crumbs in a bowl. Use a fork to combine the ingredients and stir in the melted butter until all of the crumbs are evenly moistened. Fill a 9-inch springform pan or a 10-inch pie plate with the crumbs, pressing them into an even layer on the bottom and halfway up the sides of the pan. Bake for 6 to 8 minutes, or until golden brown. Allow to cool for 10 minutes.
Spread a thin, even layer of salted caramel sauce over the bottom of the crust. Over the top of the caramel layer, evenly distribute the chopped pecans. While you prepare the apples, put the pan in the refrigerator.
Reduce oven temperature to 350 degrees F.
To prepare the apples, melt the butter in a 12-inch skillet over medium heat. Stir in the brown sugar, cinnamon, and salt. Cook the mixture for about a minute, or until it begins to gently bubble. Toss the apples with the butter mixture in the pan after adding them. Cook for 15 to 20 minutes, stirring occasionally, until the apples are very tender and nearly all the liquid has evaporated. After 10 minutes of cooling, add the apples to the pan on top of the caramel-pecan layer, distributing them evenly. Return the pan to the refrigerator.
For the cheesecake, use an electric mixer to thoroughly blend the cream cheese and sugar at medium speed. Add the egg and beat until completely combined. Add the lemon juice and vanilla extract, and beat for an additional one to two minutes, or until completely smooth. Spread an even layer of cheesecake batter over the apples in the pan. Bake the cheesecake for about 30 minutes, or until it is firm and the middle doesn't jiggle. Refrigerate for at least 4 hours or overnight after removing the pan from the heat and allowing it to cool to room temperature.
Making the Whipped Cream: Using a hand mixer or a stand mixer with a whisk attachment, whip the heavy cream and powdered sugar until stiff peaks form.
Remove the sides of the springform pan before garnishing and serving the pie. Over the cheesecake layer, evenly distribute the whipped cream. Use a butter knife or offset spatula to gently swirl the caramel into the whipped cream after adding spoonfuls of the caramel sauce on top of the cream. Sprinkle additional chopped pecans on top. Serve immediately. Cover and refrigerate any leftovers.
Caramel Apple Cheesecake Pie Recipe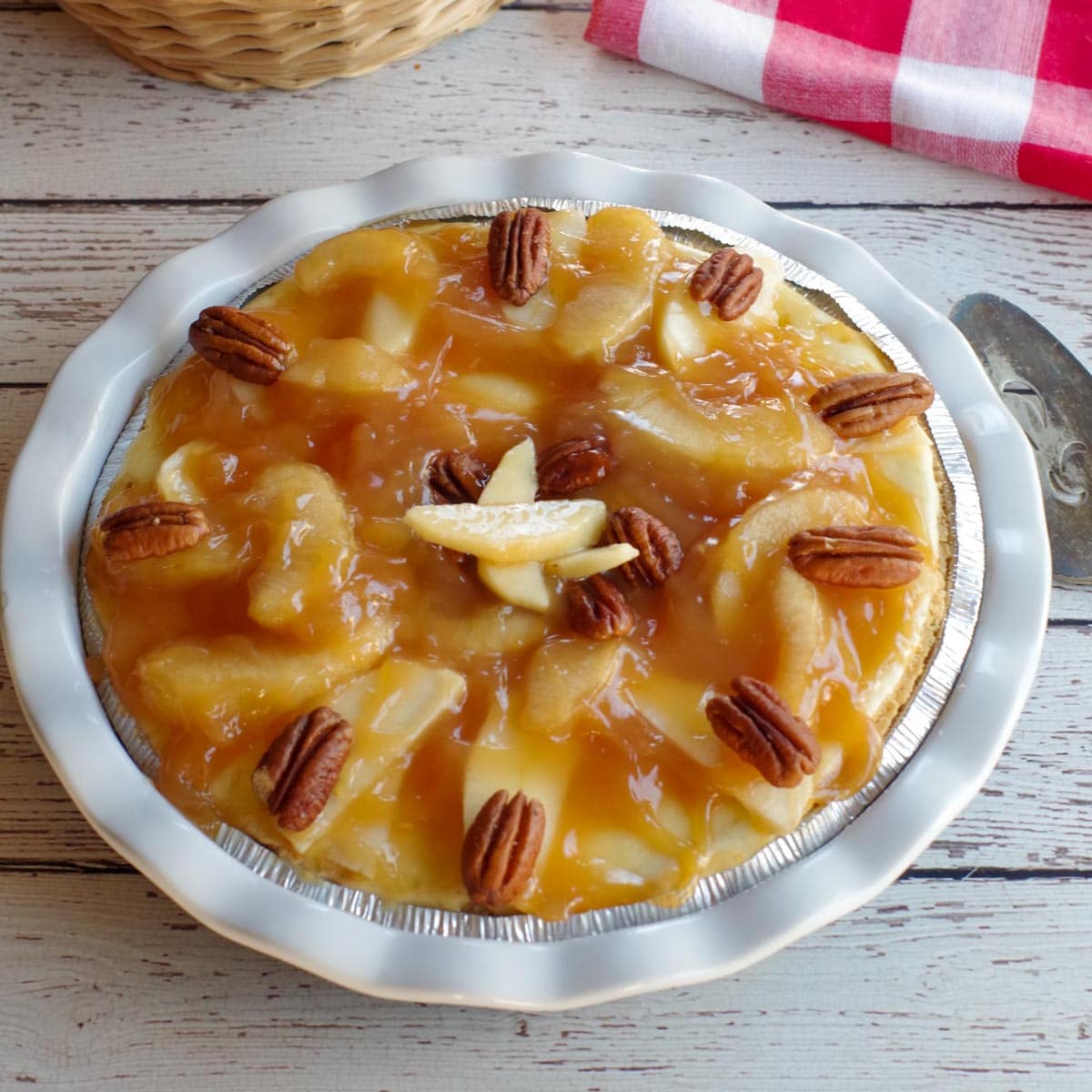 With a straightforward graham cracker crust, canned apple pie filling, cream cheese, and caramel sundae sauce, you get the best of both worlds – caramel apple pie and cheesecake in one delectable dessert – in this recipe for caramel apple cheesecake pie.
Prep: 15min
Total: 170min
Yield: 8
Serving Size: 1 piece
Nutritional information per serving: 1 piece, 1251 kcal, 164 g of carbohydrates, 16 g of protein, 60 g of fat, 15 g of saturated fat, and 0 g of trans fat. 004 g, 72 mg of cholesterol, 1174 mg of sodium, 5 g of fiber, 66 g of sugar, and 41 g of unsaturated fat
Ingredients:
18 ounce – can of apple pie filling
9 inch graham wafer pie crust
16 ounces cream cheese (*softened )
1/2 cup white sugar
2 eggs
1/2 teaspoon vanilla
1/4 cup caramel sundae sauce
20 pecan halves (plus 2 tbsp chopped pecans)
1 apple
Instruction:
Preheat oven to 350 degrees F/176 degrees C.
Set aside 3/4 cup of the canned apple pie filling as a reserve.
Spoon remaining pie filling onto pie crust
Beat cream cheese, sugar, and vanilla until smooth in a large bowl.
Add eggs and beat.
Beat until combined and smooth.
Pour cheesecake batter into pie shell, over apple. *After taking this picture, I had to remove about 3/4 of a cup because it was too full. You can use the excess to make mini cheesecake pies.
Insert an instant read thermometer to check the doneness of the pie (see Top Tip): * The cheesecake should jiggle slightly in the middle.
Bake 35 minutes or until centre is set. Cool
Mix reserved apple pie filling and caramel sauce in saucepan. Heat about 1 minute (over medium low heat) on stovetop.
Arrange apple slices (wedges, thin) around outside edge of cheesecake.
Spoon caramel sauce/apple mixture onto cheesecake and spread evenly.
Decorate with pecan halves on apple wedges. If desired (or according to your decorating preferences), scatter chopped pecans in the center and arrange the apples as shown.
Refrigerate for at least 2 hours. Serve cold.
Optional garnish: Top with whipped cream or Cool whip.
Caramel Apple Crisp Cheesecake
FAQ
What is the secret to making an apple pie?
4 Tips for Making a *Much* Better Apple Pie
Use firm apples — some sweet, and some tart. When choosing apples for your pie, both texture and flavor matter.
Toss the apples with sugar, then drain. …
Brush the inside of the crust with egg wash. …
Don't dump the apples in.
Do you have to pre bake cheesecake crust?
Always bake your crust first before adding cheesecake filling to it. Place the crust in the oven for about 10 minutes even if the recipe does not specify doing so. This will maintain its crispiness and prepare it for a delectable filling.
How long does apple pie last in the fridge?
Apple pie, or any other fruit pie, should ideally be kept in the refrigerator with a lid on it or tightly wrapped in plastic wrap. It will keep for up to 4 days in the refrigerator, but make sure to check on your leftovers frequently to ensure they still taste and look good before eating.
How long does cheesecake take to set?
Put the cheesecake in the fridge for at least 6 to 8 hours, but overnight is preferable. Refrigerate for at least 12 hours to ensure a sturdy no-bake cheesecake with beautifully straight slices. Do not freeze the cheesecake to set it; it makes a great dessert to prepare ahead of time.