Fall is in the air with this simple-to-make butternut squash soup that includes apples, sweet potatoes, and warm spices.
One of my favorite recipes is this simple butternut squash and sweet potato soup, which I serve every Thanksgiving. The most difficult part of making it is battling the butternut squash, so I ask the produce department for pre-cut squash to make life simple. Make sure the pre-cut produce you choose is fresh whenever possible; I always choose a package from the back of the shelf because those frequently have later expiration dates.
Here is 4 recipe(s):
Butternut Squash & Sweet Potato Soup
Fall is in the air with this simple-to-make butternut squash soup that includes apples, sweet potatoes, and warm spices.
Yield: 6-8
serving size, 359 calories, 18 g of fat, 43 g of carbohydrate, 9 g of protein, 10 g of saturated fat, 5 g of fiber, 816 mg of sodium, and 59 mg of cholesterol.
Ingredients:
3 tablespoons unsalted butter
2 cups roughly chopped yellow onions
2 pounds pre-cut butternut squash
1 12 pounds worth of medium sweet potatoes, peeled, cut into 1-inch chunks
8 cups chicken broth
1½ teaspoons salt
½ teaspoon ground black pepper
1 apple that is sweet but tart, such as a Honeycrisp or Fuji, cored, peeled, and cut into 1-inch pieces.
3 tablespoons honey
½ teaspoon ground cinnamon
¼ teaspoon ground mace
⅛ teaspoon ground nutmeg
1 cup heavy cream
Instruction:
Melt the butter over medium heat in a large pot. Add the onions and cook for about 5 minutes, stirring occasionally, until translucent.
Add the chicken broth, butternut squash, sweet potatoes, salt, and pepper to the pot. Bring to a boil, cover, and lower the heat; simmer for about 15 minutes, or until the vegetables are very tender. Turn off the heat. Using a hand-held immersion blender, purée the soup until it is incredibly smooth and creamy after adding the diced apple and honey. (Alternatively, purée the soup in batches using a standard blender, taking care not to fill the jar more than halfway. To allow the heat to escape, leave the lid's hole unclosed and loosely cover with a dish towel. Pour the blended soup into a clean pot. ).
Stir in the cinnamon, mace, nutmeg, and heavy cream. Simmer for a while, then taste and correct the seasoning as needed. Simmer the soup until it reaches the desired consistency over low heat to thicken it.
Note: This soup thickens as it cools. If necessary, thin it back out to the desired consistency with a little water.
Instructions for Freezing: The soup can be frozen for up to three months. The soup should be defrosted in the fridge for 12 hours before being heated through on a stovetop over medium heat. (The soup will thicken up while in the freezer. If necessary, add a little water while reheating to thin it to the desired consistency. ).
Autumn Squash and Sweet Potato Soup Recipe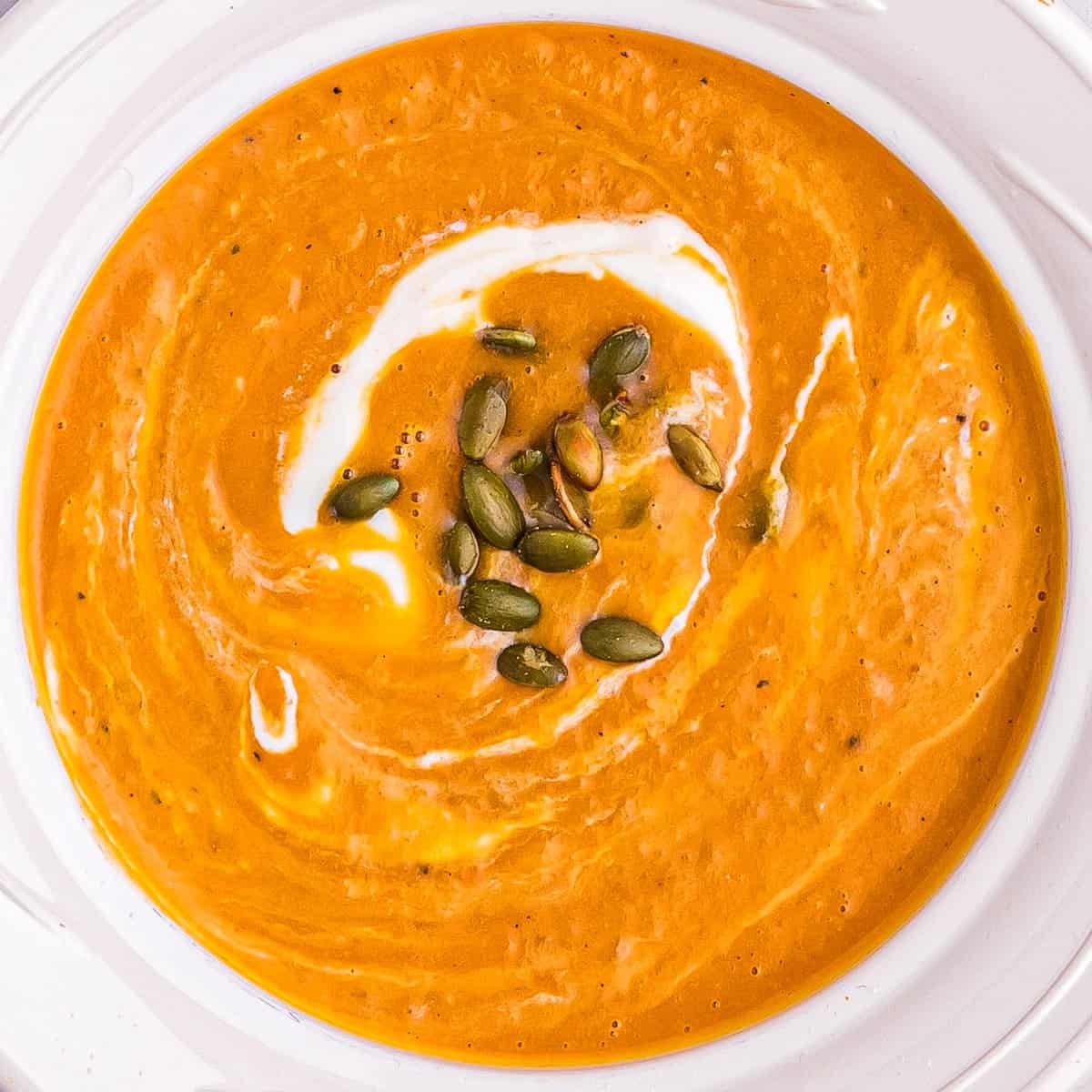 The ultimate in comfort food for Fall and Winter is this butternut squash and sweet potato soup. The deep caramelized flavor that is added when roasting the potatoes and squash is simply unbeatable.
Prep: 15min
Total: 65min
Yield: 8
Serving Size: 1 serving
The following nutritional information per serving is provided: calories 271 kcal, carbohydrate 43 g, protein 7 g, fat 9 g, saturated fat 3 g, trans fat 1 g, cholesterol 8 mg, sodium 585 mg, fiber 7 g, sugar 9 g, and unsaturated fat 6 g.
Ingredients:
One large butternut squash, diced into 1 inch pieces (about 5 cups), peeled, seeded, and cooked.
A minimum of one to two large sweet potatoes, peeled and cut into 1 inch cubes (about five cups),
1 large carrot (peeled and cut into 1 inch pieces)
1/2 large yellow onion (peeled and cut into large pieces)
3 cloves garlic (minced)
3 Tbsp olive oil
1 tsp kosher salt
1/2 tsp black pepper
2 Tbsp unsalted butter
1/2 large yellow onion (diced)
1 large carrot (peeled and diced)
2 ribs celery (diced)
1/2 tsp kosher salt
1/4 tsp black pepper
1/2 tsp ground cinnamon
1/2 tsp dried rosemary
1/4 tsp ground sage
1/4 tsp ground nutmeg
6 cups reduced sodium chicken broth
drizzle of heavy cream
dollop of sour cream
roasted salted pumpkin seeds
Instruction:
Add oil, salt and pepper and stir to combine well. Vegetables should be placed on a baking sheet, then baked for 30 to 45 minutes, or until tender and well-browned. Stir halfway through baking.
Continue heating until thoroughly heated (this will depend on the individual; mine only took a few minutes). Taste, and add salt and pepper if necessary.
Serve hot with any desired toppings and an optional swirl of heavy cream or sour cream.
Butternut Squash And Sweet Potato Soup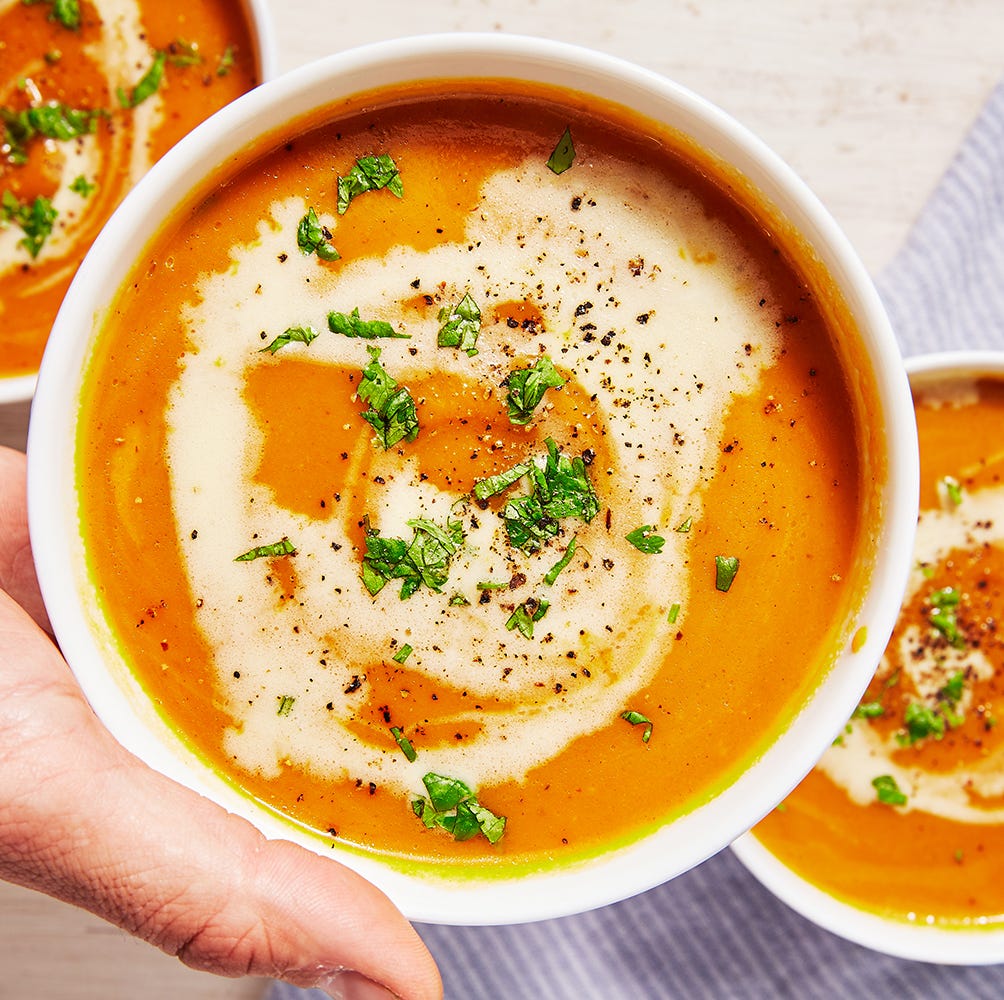 This butternut squash and sweet potato soup has tons of flavor and couldn't be simpler to make if you're looking for a good soup recipe.
Prep: 10min
Total: 1h10min
Yield: 4
Ingredients:
1 onion, diced
500g or so of 1 butternut squash, cubed into 2cm pieces.
1 sweet potato, peeled, and cut into cubes measuring 2 cm (about 300 g)
1 small carrot, peeled, and chopped into cubes measuring 1 cm (about 100g)
2 cloves garlic, peeled and halved
1 tbsp. vegetable oil
1 L vegetable stock
Double cream and fresh coriander, chopped, to garnish (optional)
Instruction:
In a large pan with hot oil, cook the onions for about 10 minutes, or until they are soft. Add the remaining vegetables and cook for an additional five minutes.
When the vegetables are tender, reduce heat, add the stock, and then simmer, uncovered, for about 20 to 30 minutes.
Allow to cool for five minutes, then pulse in batches until smooth in a blender.
Add salt and pepper, then serve with a cream ring and a dash of coriander.
Butternut squash and sweet potato soup
Vegetables are roasted in honey before being blended into this velvety smooth, spiced soup, which is served with slices of ciabatta flavored with garlic and lemon for dipping.
Prep: 30min
Total: 1h30min
Nutritional Information: 435 calories, 19 grams of fat, 9 grams of saturated fat, 51 grams of carbohydrates, 16 grams of sugar, 7 grams of fiber, 11 grams of protein, and 1 milligram of sodium. 2 milligram of sodium.
Ingredients:
500g sweet potatoes, peeled and diced
1 butternut squash, peeled, deseeded and diced
1 tbsp clear honey
1 tbsp olive oil, plus a drizzle
2 onions, roughly chopped
3 garlic cloves, crushed
1l vegetable or chicken stock
1 tsp cinnamon
1 tsp grated nutmeg
100ml double cream
1 tbsp olive oil
3 garlic cloves, crushed
100g butter, at room temperature
zest 1 lemon
2 tbsp snipped chives
1 tbsp chopped thyme
2 ciabatta loaves, cut into slices
Instruction:
Heat oven to 220C/200C fan/gas 7. Add the honey and a drizzle of olive oil to the baking tray with the butternut squash and sweet potatoes. Roast for 40-45 minutes, stirring occasionally, until tender and beginning to caramelize at the edges.
In the meantime, soften the onions in one tablespoon of olive oil before adding the garlic, chicken stock, cinnamon, and nutmeg. Bring to the boil, and simmer for 5 mins.
Butternut squash and sweet potatoes should be taken out of the oven and added to the stock-filled pan. Blend everything until smooth using a stick blender. Season to taste with salt and pepper after stirring in the majority of the cream and returning the mixture to a gentle simmer.
Making the lemon When the mixture is smooth, turn off the heat and stir in the butter and lemon zest. Leave to cool, then stir in the chives and thyme.
Toast the ciabatta slices and place a spoonful of garlic butter on top of each piece. Serve with the remaining cream, some black pepper, and the soup.
Butternut Squash & Sweet Potato Soup
FAQ
Is butternut squash and sweet potato good for you?
In conclusion, both butternut squash and sweet potatoes are very healthy. Both are excellent sources of vitamins, minerals, and antioxidants, especially beta-carotene. Butternut squash has about half as many calories, carbohydrates, and sugar as sweet potatoes per serving.
How do you make butternut squash soup taste better?
A small amount of butter enhances the flavor and makes the soup truly irresistible without adding weight to it like heavy cream often does. (You can substitute olive oil for vegan/dairy-free soup. It's already vegetarian. (That's a small tip I included in my cookbook for my tomato soup.
How does Gordon Ramsay make butternut squash soup?
What Goes Well With Butternut Squash
Herbs
Sweet: brown sugar, maple syrup, honey.
Savory foods include pasta, rice, eggs, bacon, chicken, beef, ham, turkey, and sausage.