If you're looking for the EASIEST homemade recipe for apple fritters, you should try this one. The apple rings are fried, then covered in cinnamon sugar for the ultimate fall treat!
Like my grandmother used to make, I adore retro desserts, and these apple fritters are no exception. For more comforting apple recipes, check out my Quick Apple Crisp and my Brown Sugar Cinnamon Apples! They're both packed with all your favorite autumn flavors and the ideal treat to enjoy on the porch while wearing your favorite sweater.
The best apple fritters are those that you get from your best friend's German grandma or from those small country fairs.
But what can I say, they can be difficult to find. And let's face it: Purchasing them in the quantities that children NEED to consume them becomes prohibitively expensive.
A few apples, ingredients for a straightforward batter, and some oil are all you need to make a just as tasty but more affordable (and available!) substitute at home.
Also, don't be intimidated by the frying process—making apple rings is probably one of the simplest things you can do!
Here is 1 recipe(s):
Cinnamon Sugar Apple Fritters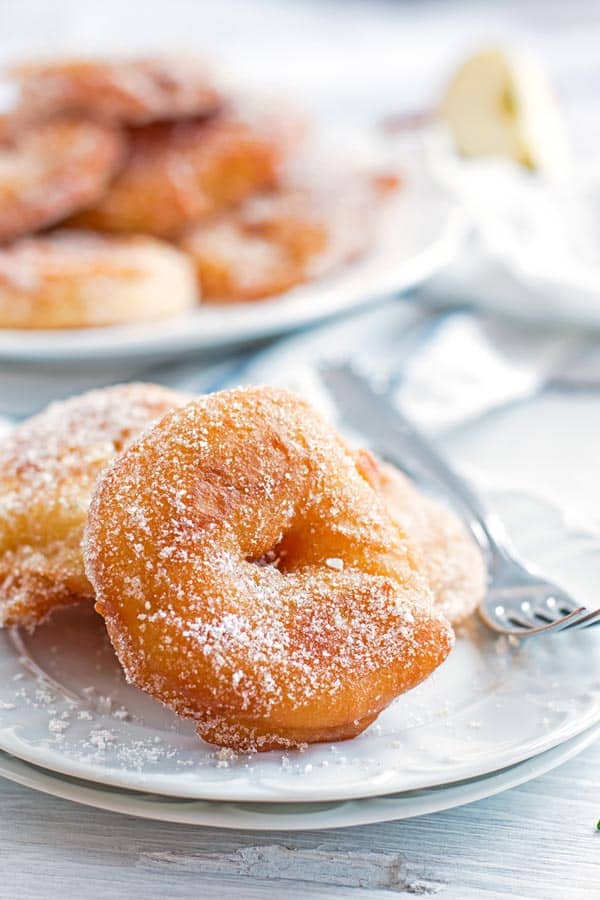 With just a few simple ingredients and some time, you can quickly prepare these apple fritter rings at home.
Prep: 15min
Total: 40min
Yield: 20
Serving Size: 1 serving
Nutritional information per serving: 106 kcal, 18 g of carbohydrates, 2 g of protein, 3 g of fat, 2 g of saturated fat, 9 mg of cholesterol, 24 mg of sodium, 1 g of fiber, and 9 g of sugar.
Ingredients:
2 cups vegetable oil
1/4 cup sugar
1 teaspoon cinnamon
1 1/2 cups flour
3 tablespoons sugar
1/2 teaspoon cinnamon
1 teaspoon baking powder
1/8 teaspoon salt
1 cups milk
1 tablespoon maple syrup
1 egg
1 tablespoon oil
4 medium apples, cored, peeled, and cut into rings that are 1/2 inch thick
Instruction:
Prepare the deep fat fryer or a deep cast iron skillet by slowly heating the 2 cups of vegetable oil in it. Place a plate with a substantial layer of paper towels next to your fryer. In a medium bowl, combine the sugar and cinnamon for the cinnamon sugar coating, and place it next to the plate covered with paper towels. Add a large plate for the finished fritters.
To make the apple fritter batter, combine the flour, sugar, cinnamon, baking soda, and salt in a large bowl. As you whisk in the milk, maple syrup, egg, and 1 tablespoon of oil, a thick and smooth batter will form.
Check the oil: Drop a small amount of batter into the oil to see if it is hot enough. You're ready to go if the batter browns and rises to the surface quickly.
Fry the apples by coating each apple ring with batter and carefully dropping it into the hot oil using metal tongues. Fry until golden and puffy, about 1 to 2 minutes per side. Get out of the oil, then quickly blot the paper towels. While it's still warm, toss it in the cinnamon sugar mixture and place it aside on a plate. Once you've used up all the batter, repeat the process with the remaining apple slices. You can cook multiple rings simultaneously depending on the size of your skillet or fryer.
Fried Apple Rings | Episode 1199
FAQ
What is the difference between a donut and a fritter?
The difference is in how they are filled: donut batter is fried alone before fillings may be piped in after they are cooked. Contrarily, before fritters are even fried, their fillings are folded into the batter.
What is an apple fritter donut made of?
Apple fritter donuts made at home in the style of a bakery are the ideal sweet treat that are similar to those you would typically find at a donut shop. Cinnamon is combined with tiny pieces of soft yet crisp apple, which are then folded into a tender yeast dough, fried to perfection until golden brown, and covered in a straightforward glaze.
What is the difference between an apple fritter and a donut?
A fritter is encased in batter and deep-fried, so what's the difference? Apples are sliced, dipped in batter, and then fried to make apple fritters. A donut is a deep-fried piece of dough that is frequently flavored and sweetened with various ingredients.
How do you keep apple fritters from getting soggy?
Fry at the right temperature. The fritters burn before they internally cook if the oil heats up too much. The fritters absorb all the oil if the oil is too cool, and they become soggy. Monitor the temperature with a probe thermometer while cooking, and allow the oil to reheat between batches of fritters.