Here is 1 recipe(s):
Apple Cider Funnel Cake Recipe by Tasty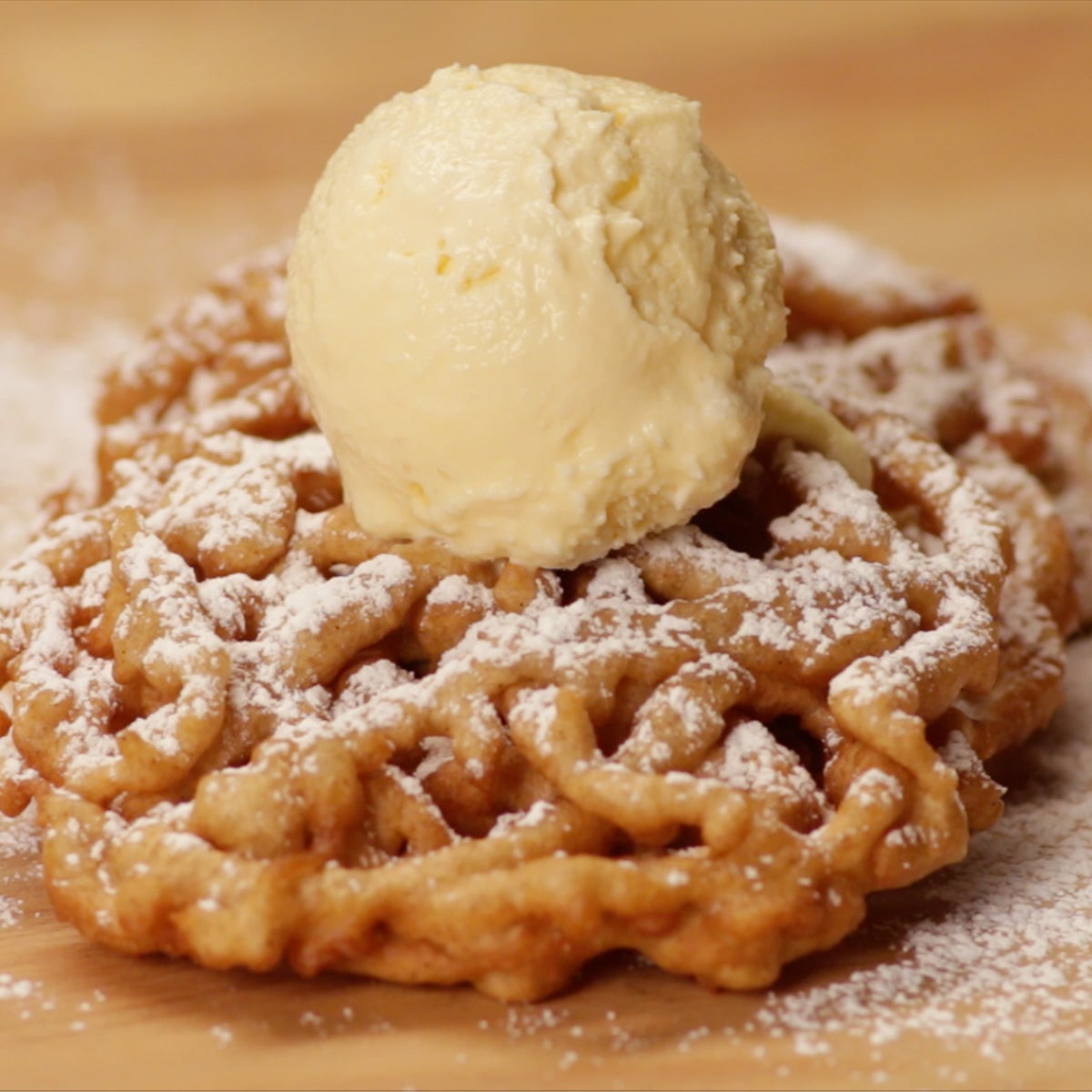 You'll need: flour, salt, sugar, vanilla, apple cider, cinnamon, allspice, baking powder, eggs, whole milk, vegetable oil, powdered sugar, and ice cream.
Yield: 4 servings
Nutritional Information: 608 calories, 100 grams of carbohydrate, 13 grams of fat, 3 grams of fiber, 18 grams of protein, and 18 grams of sugar.
Ingredients:
3 cups flour
½ teaspoon salt
1 tablespoon cinnamon
½ teaspoon allspice
2 teaspoons baking powder
3 eggs
¼ cup sugar
1 tablespoon vanilla
1 cup apple cider
1 cup whole milk
vegetable oil, for frying
powdered sugar, for dusting
ice cream, optional
Instruction:
In a bowl, combine the flour, salt, cinnamon, allspice, and baking powder.
In separate bowl, combine eggs, sugar and vanilla. Blend.
Add apple cider and milk. Blend until well incorporated.
Blend the wet ingredients and dry ingredients together gradually until you have a smooth, creamy batter.
Heat vegetable oil in a deep skillet.
Place the batter in a zipper bag, then cut a corner.
Pour batter in funnel cake shapes into the hot oil. Turn over once golden brown and cook the other side for no more than a minute.
Remove and drain on paper towel.
Dust with powdered sugar and top with ice cream.
Nutritional Information Calories: 2301 Fat: 139g Carbs: 249g Fiber: 4g Sugars: 161g Protein: 18g
Enjoy!
How to make Apple Cider Funnel Cake?
FAQ
Is funnel cake batter the same as pancake batter?
Funnel cake mix is basically the same as pancake mix. So, yes, pancake mix can be used to make funnel cakes. It only takes a few ingredients to make funnel cake batter: milk, egg, vanilla extract, plain flour, sugar, and baking powder (plus some cinnamon, if you like). The batter is then poured through a funnel into hot oil.
What is funnel cake batter made of?
Traditional recipes call for a fairly standard batter consisting of flour, eggs, sugar, milk, baking soda, or baking powder; however, I found that "complete" buttermilk pancake mix (look for brands that only call for the addition of water) can be used to make awesome funnel cakes.
Is funnel cake same as fried dough?
A yeast-leavened bread dough is used to make fried dough. Instead of yeast, baking powder is used as a leavener in funnel cake, which has a batter that is more similar to pancake batter and much thinner than bread dough.
Why is my funnel cake falling apart?
The most frequent cause of funnel cake crumbling is overheated oil. When you pour the funnel cake batter into the pan as a result, it will fragment. Your batter being too thick is another factor that could cause your funnel cake to crumble.